goal.com wrote: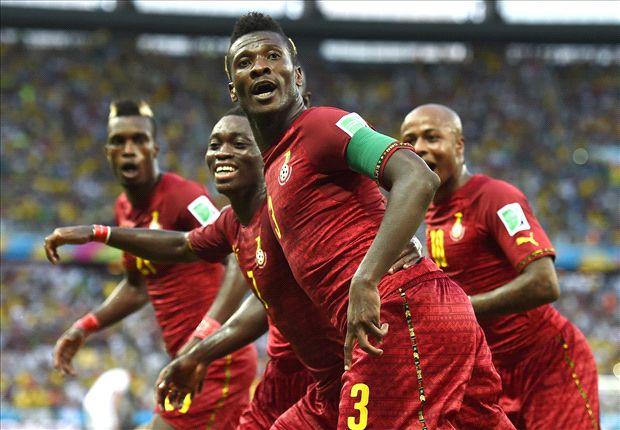 The Ghanaian government has been forced to send $3 million to the Black Stars, who demanded payment before Thursday's game.
Ghana's bonus row between the players and the nation's FA has been solved after $3 million was flown into Brazil by the government Tuesday.
The Black Stars were irritated with the amount they had been paid and almost boycotted their trip to Brasilia to face Portugal in their must-win final group game.
Ghana president John Mahama had to intervene swiftly to calm nerves over the appearance fees for the World Cup, which had not been paid since the start of the competition.

An official statement from the Ghana FA confirmed the ruckus in camp but assured that "the money will be paid by Wednesday afternoon which has brought some assurance to the Black Stars".
Ghana's deputy sports minister Joseph Yamin said officials had no option other than to arrive at that decision since the players threatened to derail the World Cup campaign.
PHOTOS: USA vs. Portugal | U.S. fan reactions | Beautiful people in Brazil
The players held up their trip to Brasilia for hours demanding about $100,000 each as "appearance fee" at the global football tournament before facing beleaguered Portugal on Thursday.
The sports ministry had initially planned to wire the money to the players as the tournament wears on, but it had to "come back and mobilize the physical cash to be sent to them. Saturday morning, the money was mobilized, but a chartered flight to take the money to Brazil is what has delayed the money up until now."
Yamin told Accra-based Citi FM that the flight will be in Brazil on Wednesday, then the money will be disbursed to the agitated players ahead of their must-win game against Portugal.
He said "government had to contend with getting permits, getting the reliable flight to be able to send this money across, national security vans would have to be policing this money to the airport."
Yamin said they had no option than to give in to the Black Stars pressure since government did not want to be blamed for a bad campaign in Brazil.
Ghana will play Portugal on Thursday, and a convincing win could see it through to the knockout stages of the competition.