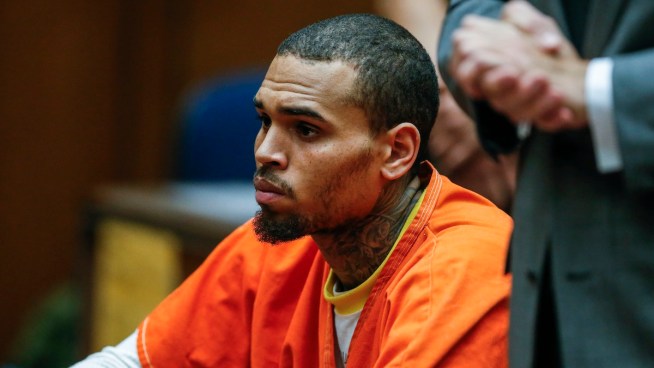 AP
R&B singer Chris Brown appears in Los Angeles Superior Court on Monday, March 17, 2014. After a weekend in jail, Chris Brown has been ordered to remain in jail without bail for allegedly violating his probation stemming from his 2009 assault of then-girlfriend Rihanna hours before the Grammy Awards. Photo/Lucy Nicholson, Pool)
A judge has ordered singer Chris Brown and his bodyguard have two separate trials in Washington, D.C.
Monday morning, a judge denied a motion to dismiss the case that Brown's lawyers had made, saying prosecutors misused the grand jury process to prepare for trial.
The judge announced that afternoon Brown and his bodyguard Chris Hollosy will have separate trials, with Hollosy being tried first.
Both men were arrested in Washington in October after a 20-year-old Beltsville, Md., man said he was punched during an altercation outside the W Hotel near the White House.
Hollosy's trial will begin April 17, and Brown's will begin four days later.
The singer had been in an L.A. jail since he was dismissed from a rehab facility in March for rules violations. He was taken into custody by U.S. marshals last Tuesday to be transported to D.C.
Brown's case will be heard by a judge, not a jury.
The alleged victim in the D.C. incident told authorities that Brown hit him after he attempted to get into a photo with the singer in the early-morning hours of Oct. 27. According to a police report, Brown told the man, "I'm not down with that gay [expletive]" and "I feel like boxing."