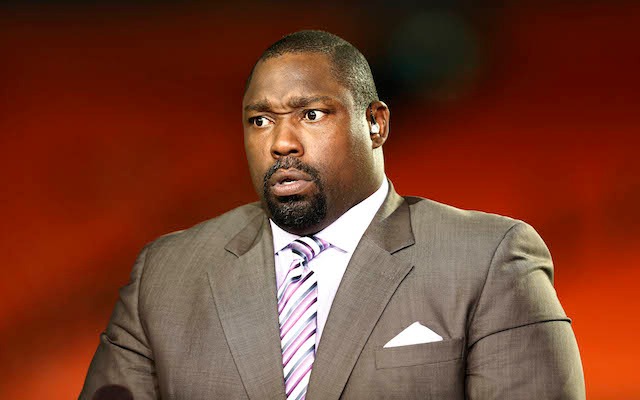 Did you watch the World Cup at a bar on Tuesday? Did you tip your waitress afterward?
Hall of Famer Warren Sapp did one of those things but not the other after watching the United States play Belgium at a bar in Florida. Sapp racked up a $69.39 bill during the match and left a zero dollar tip.
Sapp took a lot of heat for the no-tip after a picture of the bill made its way onto Twitter.
So why didn't Sapp leave a tip for the waitress? He explained himself on Wednesday.
Unfortunately for Sapp, the waitress seems to disagree with his side of the story. The 26-year-old female, only identified as Corey, joined WINZ-AM in Miami on Wednesday to explain what happened.
Lets start with the "boys don't tip" part, since Sapp wrote it in giant letters across the check.
The waitress' explanation?
"We were busy. I walked over to his table. It was him and one other guy and I said, 'Hey boys, what I can I get you to drink?' And he was like 'We're not boys. I'm a man,'" the waitress said. "I mean, saying 'Hey men, what do you want to drink?' sounds kind of weird, I think. I go with 'boys' a lot. It sounds more youthful."
As for Sapp tweeting that he "left" because the server was horrible, the waitress disputes that too, saying that the former NFL defensive lineman stayed at the restaurant until well after the match.
"He got there around 3:20 p.m... And he left probably an hour after [the match] and his service wasn't terrible," the waitress said, adding that Sapp "never complained."
Corey claims she had no idea that the term "boys" could be construed as offensive. "I didn't know 'boys' was offensive," she said. "It'd just be [like] if I went up to a table of girls, I'd say 'hey girls' -- or 'hey ladies.'"
At this point, the waitress doesn't think she'll lose her job. "I was a little concerned, but my bosses are very nice and very kind people, so I knew they'd at least hear my side of the story," Corey said.
A manager at Upper Deck Sports Bar and Grille told WINZ that he's going to investigate. "I'm going to go through the surveillance tapes to see if the service was in fact poor."
You might be wondering why a waitress would post a picture of a bad tip on Twitter -- she didn't. Apparently, when Corey serves celebrities at her restaurant, she'll send a text to her sister in New Jersey.
"I never posted anything, I just sent the picture to my sister," Corey said.
The sister then did what sisters do and posted the picture on Facebook. Eventually, the picture ended up in a Darren Rovell tweet, and that's how things go viral, ladies and gentleman.
So is Sapp a good tipper who got bad service or is he a lousy tipper who got outed by a waitress' sister? You decide.
Oh, and one more thing: Corey once served Dan Marino. Unfortunately for us though, that story didn't go viral.
"I served Dan Marino once and he was the nicest person ever. He talked to me about Ace Ventura."
http://www.cbssports.com/nfl/eye-on-football/24604765/warren-sapp-tips-waitress-0-on-70-for-horrible-service-waitress-responds