1st black female computer science PhD student at Univ. of Michigan reveals lack of rolemodels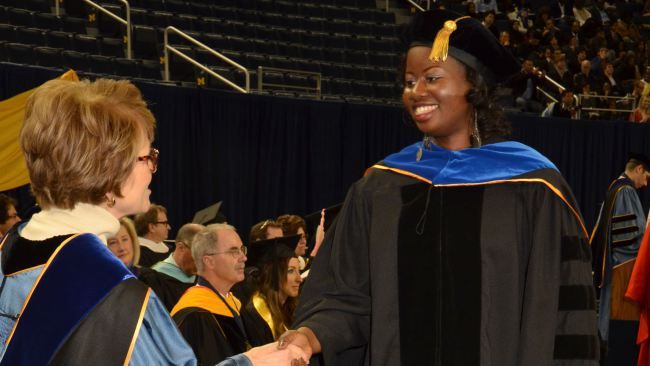 Kyla McMullen's graduation from University of Michigan in spring (Courtesy of Kyla McMullen)
"Am I really the first?"
That was the first thought that came to mind when Kyla McMullen, 27, found out she would soon become University of Michigan's first African-American female computer science PhD alumna this past year.
McMullen later decided to go to the records office to search for another fellow black female alumnus to connect with. But she soon discovered that she was the only black female student in the history of the program.
"Typically when you think of someone who is in computer science. you think of a person who is a geek – with pocket protectors, suspenders and highlighter pants," McMullen joked in a phone interview with theGrio. "African-American women often don't' think 'Okay, I wanna be that [nerd].'"
While McMullen's graduation this past spring marked a racial landmark for Michigan's computer science department, she said that her experience in the department was sometimes "isolating" because she had very few people to turn to for mentorship.
"If you're a black woman who's interested [in computer science], you think you're going to be the only person that looks like you," McMullen said. "Everyone knows Bill Gates or Steve Jobs, but there is really no one famous that is African-American. The lack of role models or even the lack of someone who looks like you is one huge factor that influences why black women don't pursue computer science."
McMullen admits she did face some obstacles during the process of obtaining her graduate degree. She remembers during her first semester, the graduate student liaison told her, "I've never taught one of 'you' before." McMullen never understood why the liaison called her 'one of you' but she quickly brushed off that awkward experience.
It wasn't until her second year at graduate school, where she really felt discrimination.
"My adviser told me, 'Not everyone is cut out to study computer science. Have you tried any other careers?' He said I didn't have what it took to study computer science," she said. "That was the only time someone blatantly said to me to my face that I couldn't do something. I can't assign a reason why he said that, but I'm pretty sure it's because of the way of I looked… I was really taken back of how dismissive he was about me."
But despite some minor roadblocks, the 27-year old has been able to fulfill one of her lifelong dreams to walk the stage to receive her graduate degree in computer science this past spring.
Growing up, McMullen always knew that computers and technology were her calling. Being nicknamed 'Inspector Gadget' by her friends, she said that she's always had a fascination with gadgets.
"Everything I wanted for Christmas always had have a digital component. You name it – virtual pets, Tamagatchi!" she says. "I've always been fascinated by digital things… You would always find me on the computer clicking through files and playing around with different shortcuts."
But the bubbly, Michigan native never knew until she reached college that she would be one of the few minorities in the field.
"There were very few females [in the department] yet alone, minorities. Being one of the only women, it definitely was something that the department didn't value and didn't really pay attention to," McMullen said.
The lack of minorities in this field prompted McMullen to advocate for greater diversity at University of Michigan. She was both the president and the vice president of The Society of Minority Engineers as well as the Scientists and the Vice President of the Movement of Underrepresented Sisters in Engineering and Science (MUSES).
According to the 2010-2011 Computing Research Association (CRA) Taulbee Survey, of the 1,400 Ph.D students in computer science, less than a quarter of them were female and only 1.2 % (or 16 people) were African-American.
McMullen is currently an assistant professor at Human-Centered Computing division in Clemson's School of Computing where she studies the use of spatial audio in the development of spatial mental maps.
"African-American women traditionally tend to gravitate towards field that are not lucrative in their pay scale," she says. "People just discount [computer science] in general, but they're selling themselves short at the end of day. Yeah there's some nerds in your class, but I see it as an art."
Follow Brittany Tom on Twitter @brittanyrtom