Beyonce: 'I was 195 pounds when I gave birth. I lost 65 pounds, I worked crazily'
January 03, 2014


By Kaiser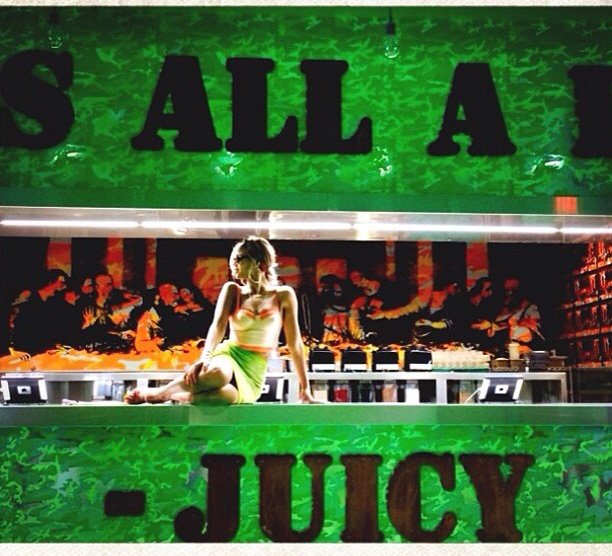 Beyonce has a new video interview/monologue to promote her album! And in this monologue, she's discussing her pregnancyand getting her body back after baby. And I have no comment. I swear. Some of us will just always believe there was something shady and some of us will always believe there was nothing shady about the pregnancy. We've fought that battle over and over. I will say this – the way Beyonce talked about pregnancy and her bodyback in May 2012 was a lot different than how she's talking about it now. Here's what she has to say about it now:
It's been almost two years since Beyonce welcomed daughter Blue Ivy with husband Jay Z, and in that time, the pop diva has certainly been busy. Not only did she embark on a massive sold-out world tour, light up the Super Bowl halftime show, and drop a record-breaking fifth studio album without any promotion, but Queen Bey also shed 65 pounds of pregnancy weight. And she is ready to show it.

In her fourth YouTube mini-documentary (entitled "Liberation") since her Dec. 13 iTunes release, Beyonce opens up about embracing her body in her new self-titled visual album.
"I was very aware of the fact that I was showing my body," she said. "I was 195 pounds when I gave birth. I lost 65 pounds. I worked crazily to get my body back. I wanted to show my body. I wanted to show that you can have a child and you can work hard and you can getyour body back. I know that there's so many women that feel the same thing after they give birth. You can have your child and you can still have fun and still be sexy and still have dreams and still live for yourself. I don't have any shame about being sexual. I'm not embarrassed about it, and I don't feel like I have to protect that side of me because I do believe that sexuality is a power we all have."
But Bey did seem a bit embarrassed when talking about her raunchy single "Partition." She said the lyrics were mostly free-styled by her, and she was afraid to play it for her loved ones.
"It takes me back to being in my car as a teenager," she recalled. "It takes me back to when me and my husband first met, and he tries to scoop me and he thinks I'm the hottest thing in the world. I kinda had this whole fantasy of being in the car, and this whole movie played in my head. I didn't have a pen and paper. And I was so embarrassed after I recorded the song because I'm just talking s–t. I'm like, 'I can't play this for my husband!' I still haven't played it for my mom. She's going to be very mad at me."
The accompanying video for the Grammy winner's tune is equally suggestive as she dances at the Crazy Horse nightclub while a cigar-smoking Jay Z looks on.
"The day that I got engaged was my husband's birthday, and I took him to Crazy Horse and I remember thinking 'Damn, these girls are fly,'" Beyonce recounted. "I just thought it was the ultimate sexy show. I was like, 'I wish I was up there, I wish I could perform that for my man.' So that's what I did for the video."