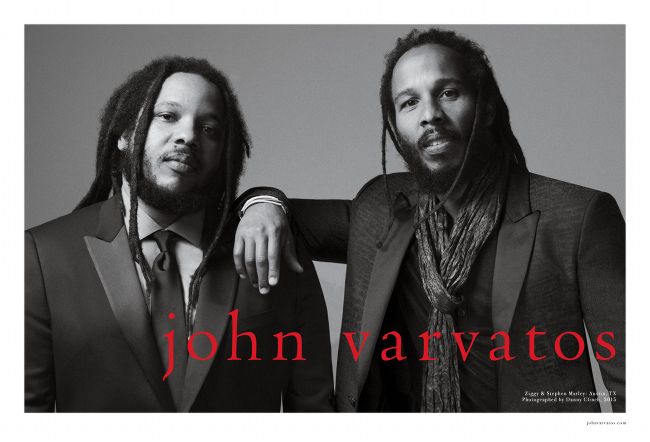 Look at those Marley brothers! Check out Stephen & Ziggy Marley suited up for John Varvatos' new print campaign inside....
They are re e legends by birth...and by talent. The eldest sons of Bob Marley, Ziggy (right) and Stephen (left), are serving up a more conservative style we don't see much from them. And boy are we loving it.
Looking like spitting images of their father, the fellas are featured in John Varvatos' Spring 2015 advertising campaign in what looks like a super dapper timeless family portrait.
The Marley brothers are dressed in John Varvatos tailored clothing as they were shot in Austin by distinguished rock photographer Danny Clinch, using in his legendary black and white imagery.
Ziggy and Stephen have a total of 14 Grammys between them. They were born and raised in the music industry as both hit the studio with their legendary father by the age of 10. And this John Varvatos Spring 2015 ad campaign marks another milestone in the brothers' careers.
Ziggy explains, "It's alway's better when I'm able to do projects with my younger brother. Idon't dress up very often, but when I do, I wear John Varvatos."
Stephen adds, "From the jungle to the palace, John is a lion!"
And that's not all for Ziggy and Stephen. On February 5th, a documentary-style short film conceived by YARD and directed by Clinch will debut on JohnVarvatos.com in celebration of their father's 70th birthday, which is the following day. Nice!
This latest John Varvatos campaign follows 21 seasons conceived by Yard and photographed by Danny Clinch, all of which underscore the brand's affinity for rock 'n' roll style-makers.
We're all the way here for these sexy brothers. One love.
Photos: John Varvatos