Let me begin by saying picking nits is a nasty job. It's not for the faint hearted, but if I can do it so can you. I hate all bugs and related things.
Know that if you're purchasing virgin hair, 9 times out of 10 it will have nits. I hardly believe anyone who says they got a nit free bundle from any of the vendors I've ordered from. I ALWAYS get nits. Only once did I not, and I didn't even have to pay for that hair (silkbaseclosures).
The biggest nit offender IMO is B-dogg. This is hair that I ordered in bulk. I sent it to Sam to be wefted.
Now this is not going to be pretty. So if you don't want to know, peruse the first page for another more appropriate post,K? I won't be offended. But I would advise you to look and learn.
Here are your tools: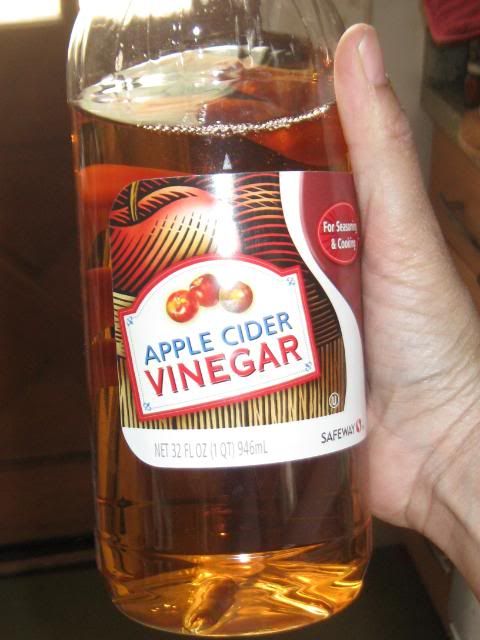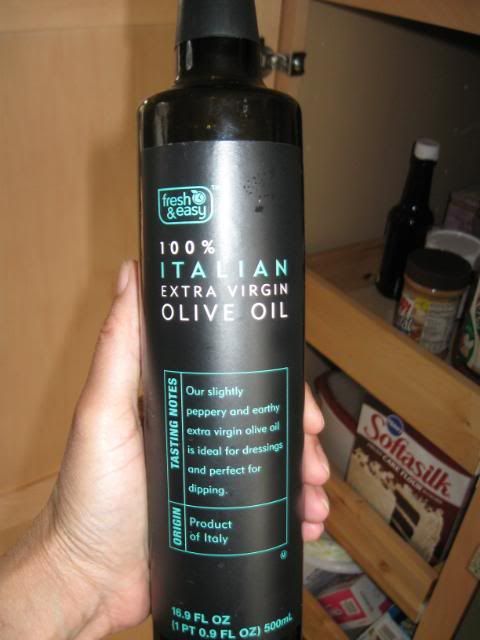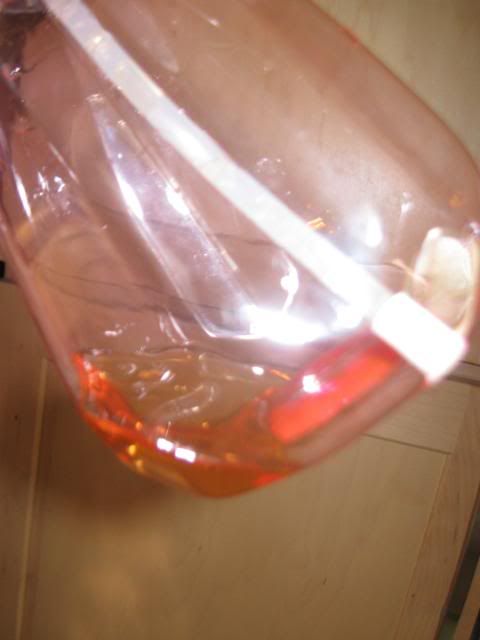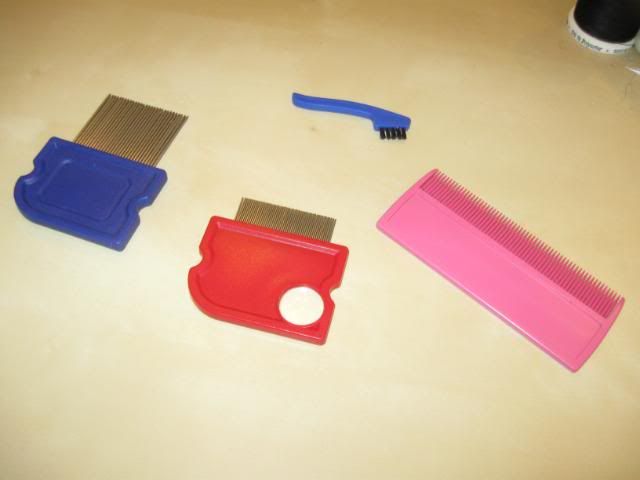 Any brand of ACV and olive oil is fine.
Indian hair is very fine so you'll have to use the smallest nit comb possible to catch those suckers.
Rattail combs don't work. You need something with very close teeth. Lice combs can be found at drug stores and BSS stores. I used the red one.
Pour equal amounts of ACV and OO into spray bottle. You won't need much at all, maybe 3 oz total. Spray the hair, saturating it completely. I use a big bowl to catch the hair. Brush it thoroughly to distribute ACV/OO.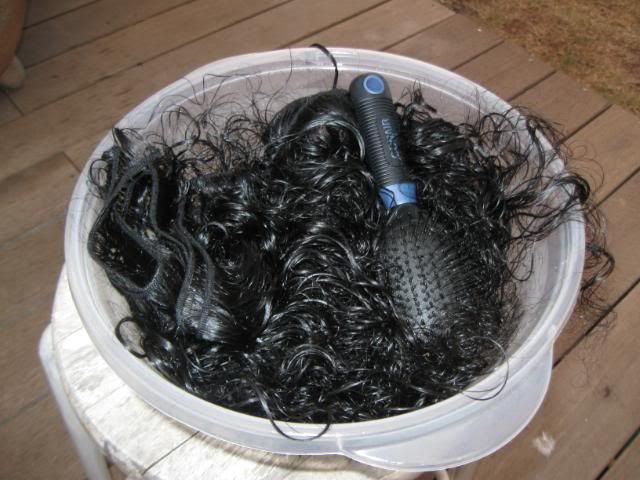 Yeah, I go outside for this. Now, I'd usually say let it sit for a number of hours to overnight. But I was so not looking forward to doing this, I left it in that bowl for over a month (in my workshop).
It had no ill effect on the hair that I can tell, but I wouldn't advise it.
I can spot nits on dry hair much easier than if it's wet. After you've applied the treatment, do not wet the hair! It's already oily, if you wet it, it's harder to manage.
Spread the weft across a table, starting at one end start combing. Here's the secret; comb pulling toward your body, placing the comb underneath the weft like so: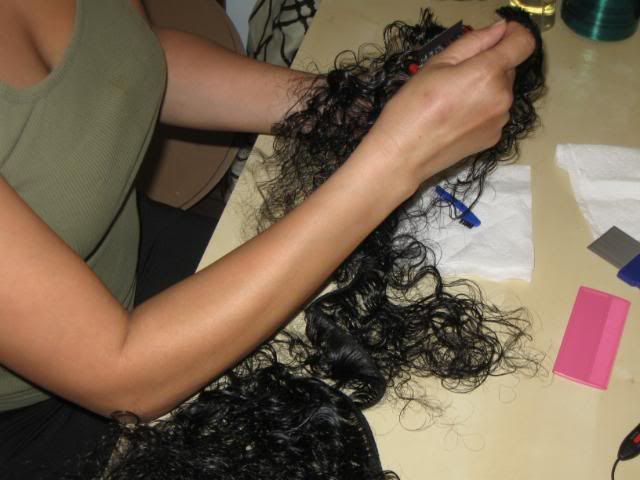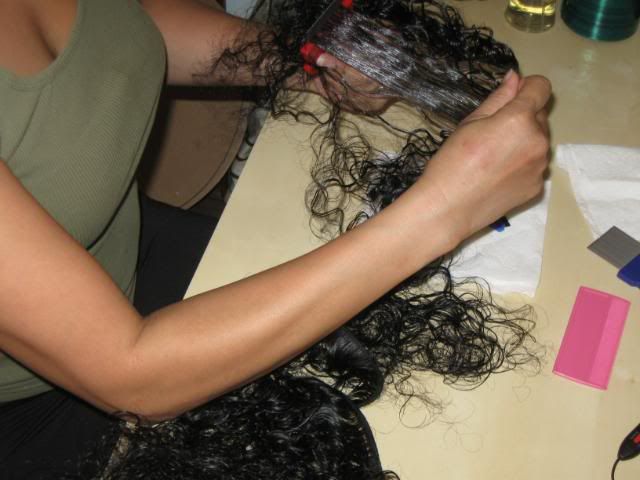 *sing* "Myyyy B-dogg is poppin'. It's poppin', it's poppin', IT'S POPPIN! Seriously, you can hear them release from the hair.
Notice how I hold the weft, place the comb underneath and pull the comb back.
Check it out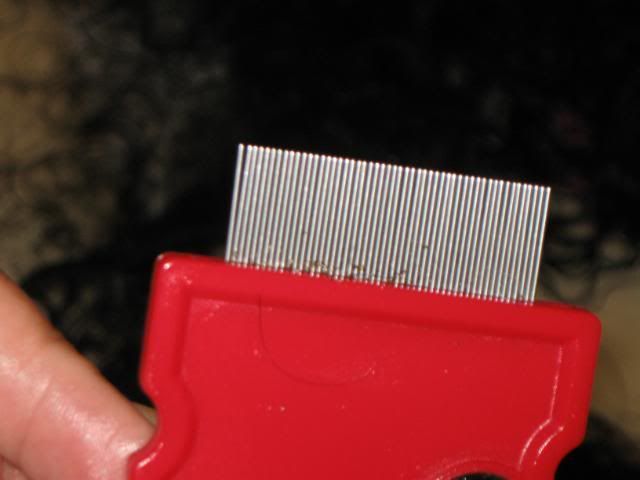 Gross, huh?
Continue combing the length of the weft, wiping the comb with a paper towel periodically. If the comb gets too yucky, use that little blue brush to clean it out. Or an old toothbrush would work fine. Flip the weft over and do the other side. Yes, just do it! They're not all out yet. Here come the gross pics...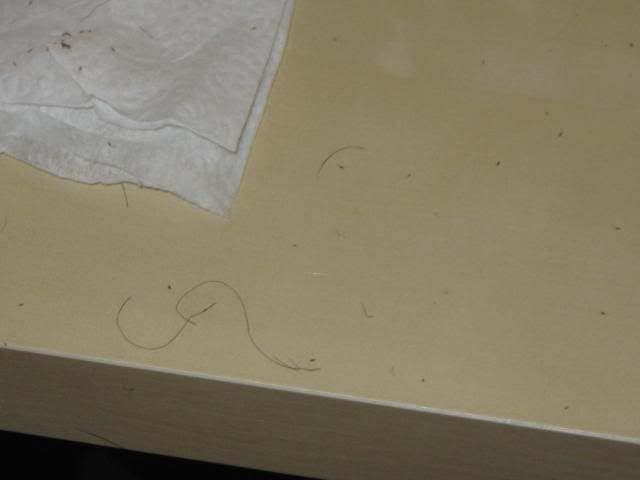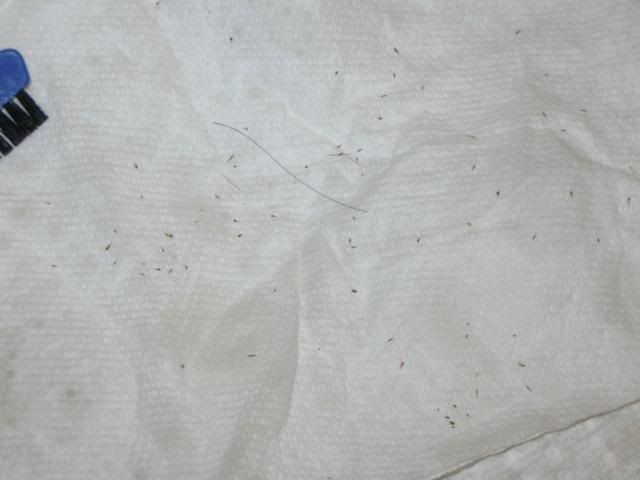 Blech!
You have 2 options at this juncture.
1. Don't order any hair from overseas.
2. Pay someone to clean your hair for you(good luck).
In the mean time wash the hair. Accordian pleat the weft and fasten with a clip.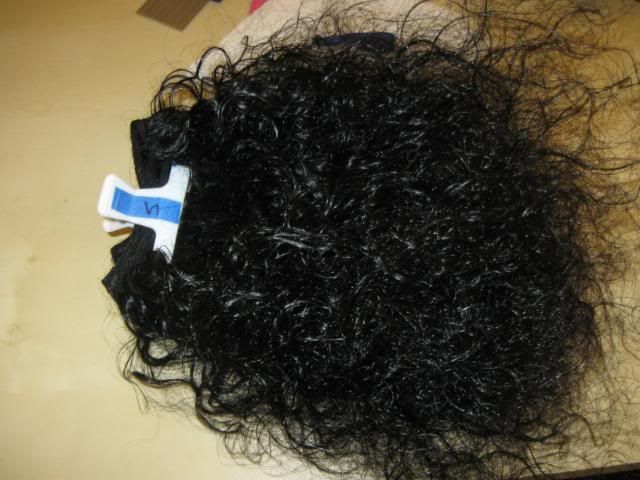 I soaked the hair in water and baking soda first. It was funky smelling. Then I washed the hair with clarifying shampoo.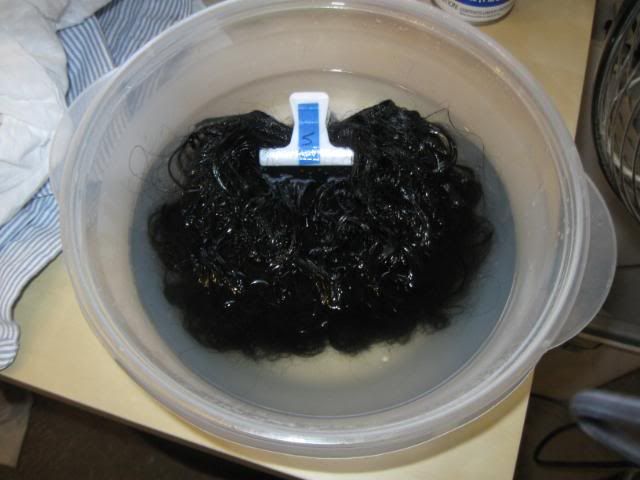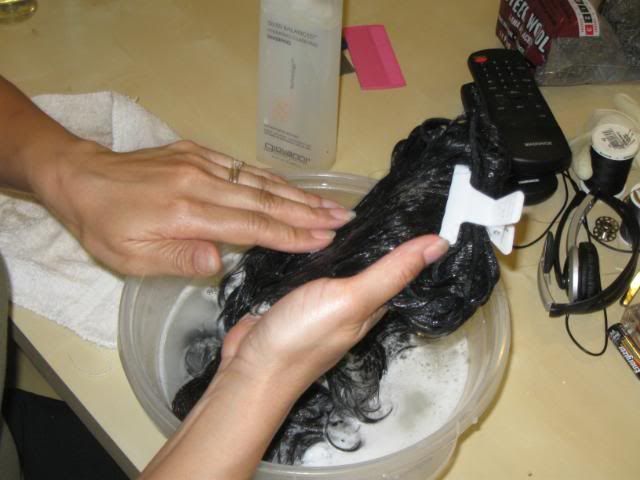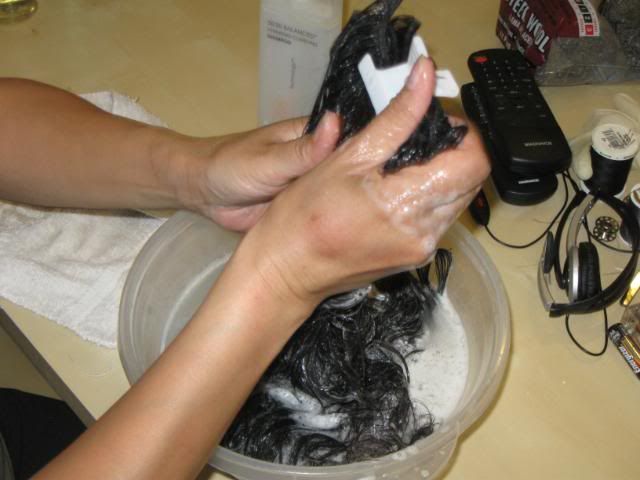 Notice I'm rubbing the shampoo on the hair and squeezing it in. This is no time to tangle your hair by being rough.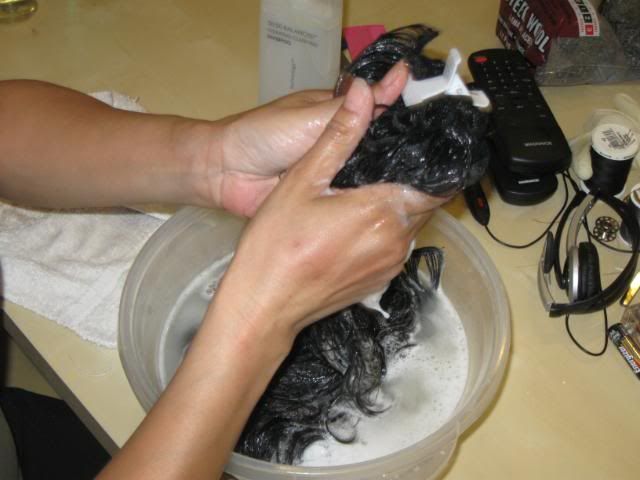 Rinse the hair, condition with something with slip, brush out, and hang to dry.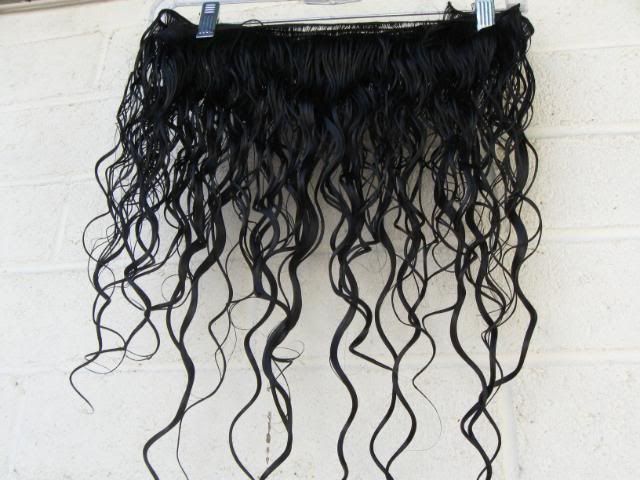 Is it clean? Nope.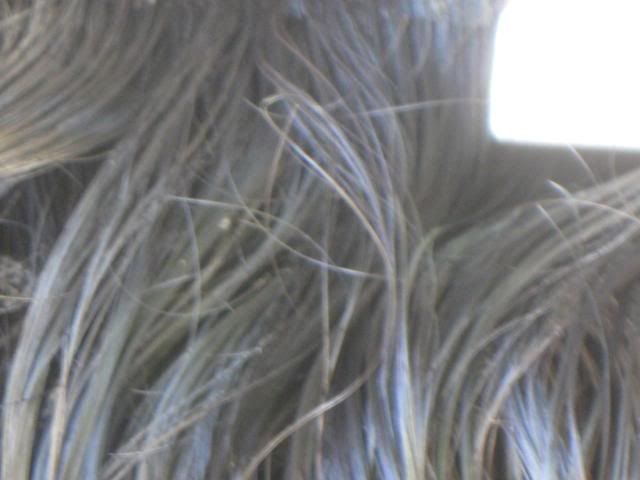 If you can see nits, then you will have to repeat the combing step again. Do not wet the hair. Do not use ACV/OO. Dry comb the hair, both sided of the weft. The stubborn ones will require that you pull them off with your fingernail. Pull all the way down to the end of the hair shaft, they hang on to the bitter end.
Here's the hair after it was dry. The bundles don't match, but it's clean hair. That I guarantee.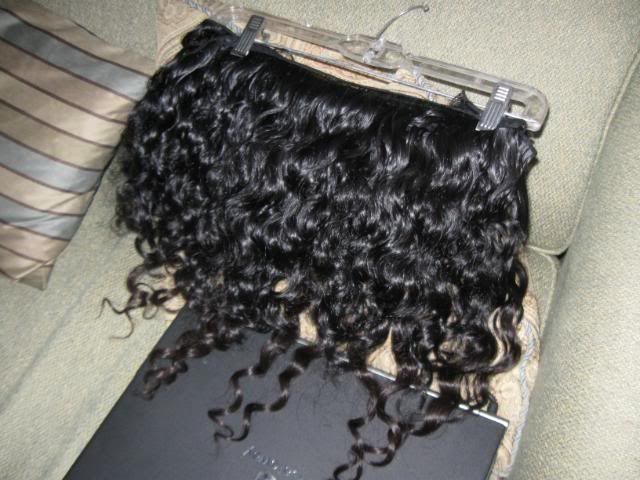 If anyone has a different way of doing this, please post your tips and pics here.
Have a good night.


Edited by mocharoni - Aug 28 2010 at 5:28pm