Antron Brown makes history
Updated:
November 12, 2012, 8:31 PM ET
By
Terry Blount
| ESPN.com
Antron Brown First African-American NHRA Champion
POMONA, Calif. -- Top Fuel driver Antron Brown started Sunday with a losing effort and burned hands. He ended the day as the NHRA Top Fuel champion, the first African-American driver in history to win a major auto racing title.
Brown had to stand and watch the final round with bandages on his hands, knowing his Don Schumacher Racing teammate, seven-time champion Tony Schumacher, would take the title from him if he won the match up with Brandon Bernstein in the Auto Club Finals.
Antron Brown and Jack Beckman pulled through with championships in Top Fuel and Funny Car, respectively. Emotions on this day were intense, writes Terry Blount. Story
But Bernstein won the final by inches on a holeshot (slower elapsed time but better reaction time at the start) to deny Schumacher and make Brown the champion. Bernstein reached the finish line in 3.76 seconds at 320 miles per hour, edging Schumacher's 3.75 elapsed time at 325 mph.
"You don't wish nothing bad on anybody," Brown said. "Tony has been my biggest supporter since Day 1. He has helped me leaps and bounds along the way. Tony's a class act. I'm just beside myself. I feel so blessed to be in this moment."
Schumacher started the day 70 points behind Brown, but almost pulled off the comeback.
"It's a terrible way to lose, but there's no good way to lose," Schumacher said. "They gave me a great car that got to the end, but the win light didn't come on. I'm sure Antron is back there celebrating. He will be a great champion."
Brown suffered minor burns on his hands when the engine on his dragster caught fire in a first-round loss Sunday at the Auto Club Finals.
"It's just a little first-degree burns on my hands," Brown said after leaving the track care center. "It was tough outing. We were just going for it. I don't know what went wrong with the car yet, just a rough mishap."
Brown quickly climbed out of the car when flames came in the cockpit. His fire suit was singed as he pulled it off to his waist. Brown was walking around on the track before an ambulance took him to the care center.
Brown lost in the opening round to DSR teammate Spencer Massey, who also was trying to win the championship. Massey had to win the opening round to keep his hopes alive. Massey lost in the second round to Bernstein, who is one of Brown's closest friends.
Brown said he would have been able to continue racing with his burns had he won in the first round. He could have clinched the title by winning the first two rounds of Sunday's event.
[+] Enlarge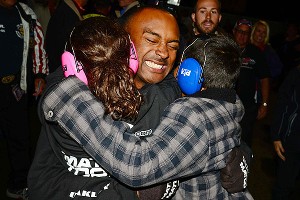 Mark J. Rebilas/US PresswireNHRA top fuel dragster driver Antron Brown celebrates with his children after clinching the title at Auto Club Raceway. Brown became the first African American driver in history to win a major auto racing title
"My guys did an incredible job this year," Brown said. "We will keep our heads high. We're still here. We have to see what happens, just watch and sit and wait. That's all we can do."
He watched and he won in the end, making history as the first black champion.
"I never really thought about it that way," Brown said. "But if I can be an inspiration to any kids out there, as a guy who never settled and never doubted myself, that's great."
The NHRA has long been one of the most diverse series in motorsports. Shirley Muldowney was the first woman to earn a license from NHRA to drive a Top Fuel dragster and won three championships, and brothers Cruz and Tony Pedregon, who are of Hispanic descent, both won Funny Car championships.
Earlier this season, Erica Enders became the first woman to win a Pro Stock event, beating four-time champion Greg Anderson in the finals at Route 66 Raceway.
Also Sunday, Jack Beckman claimed the Funny Car world championship when he edged teammate Ron Capps by two points in one of the closest points margins in the history of the category.
Top qualifier Capps lost a close semifinal round to rookie Courtney Force. Beckman was crowned champion before his semifinal against eventual race winner Cruz Pedregon.
Beckman's title gave team owner Don Schumacher both nitro trophies, duplicating his effort from 2005 when his son Tony won Top Fuel and Gary Scelzi took the Funny Car crown.
Beckman, a cancer survivor, came on during the Countdown playoffs and moved into contention with a win at St. Louis. He took the points lead at the event in Reading, Pa. when he set a national performance record and was the No. 1 qualifier.
The major historian of the sport and former drag racing school driving instructor was thrilled with the title.
"You think about this, and you dream about this," said Beckman, a cancer survivor. "It's going to take me a while to wrap my head around this."
Pedregon, Allen Johnson (Pro Stock) and Andrew Hines (Pro Stock Motorcycle) joined Bernstein as race winners at Auto Club Raceway at Pomona.
Information from The Associated Press was used in this report.


Edited by Alias_Avi - Feb 09 2013 at 1:55pm