Enjoys using large amounts of conditioners with silicones and weighty ingredients as leave ins. Air dries, protective style buns, braids . Pocahontas braids at night.
http://i2.ytimg.com/vi/9gwRVX7YzRw/mqdefault.jpg" rel="nofollow">
Leona Lewis is another hair crush
https://fbcdn-sphotos-c-a.akamaihd.net/hphotos-ak-ash3/t1.0-9/10154529_10153214323742619_1697394566_n.jpg" rel="nofollow">
Rebecca Gayheart
http://media-cache-ak0.pinimg.com/236x/be/86/f6/be86f6f06db88713d69f2ae5db56b7a6.jpg" rel="nofollow">
http://images.askmen.com/galleries/actress/rebecca-gayheart/pictures/rebecca-gayheart-picture-2.jpg" rel="nofollow">
Keri Russell
http://i48.tinypic.com/zxth7c.jpg" rel="nofollow">
the Tabbi1
(User of Monistat and Sulfur early on. DC contains silicones. Uses EVOO, Grapeseed Oil, Castor Oil and Coconut Oil. Mostly air dries. Protective styles, Pocahontas french braids, buns, hair ornaments head wraps)
Prettywitty77
(User of Coconut Oil, Olive oil, Castor oil, silicones and her own https://www.youtube.com/watch?v=7lL7rvqOF0U" rel="nofollow - Moisturizing spray )
NO HEAT. Air dries, roller set/ saran wraps, braid outs, wraps, buns
Venus Artistry
User of Red Palm Oil
JJJLonghair
(User of Coconut Oil, silicones and Jojoba Oil. Applies coconut oil an hour before shampoo AND dilutes shampoo with 5 parts water to only 1 part shampoo)
NEVER uses hot setting on blow dryer... only cool and warm. Sits in front of a fan to dry during Summer.
Go to is buns and braids, ornaments.
So you can get 5 bottles of shampoo out of 1 bottle of shampoo for those rare occasions when you want to use a shampoo instead of cowashing!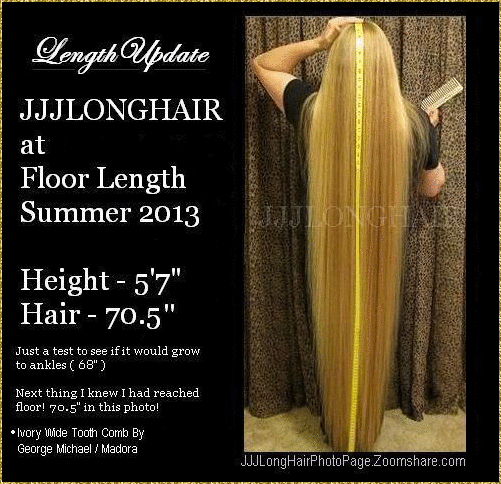 All the long haired ladies in India and Pakistan
Keep your hair oiled like the Long haired ladies !