"The ma
king of kimchi … is a culture that continues to be shared by virtually all Koreans and is a significant part of their lives," Park Hei-woong, a cultural heritage administration official, said when the Unesco status was announced at the end of last year, adding that kimchi-making maintained the "cohesiveness of Korean communities … and is an essential part of the Korean cultural identity".
There are an estimated 100 varieties from the fresh, crunchy dish preferred in the north to the more pungent version commonly eaten further south. According to the cultural heritage administration in Seoul, about 95 percent of Koreans eat kimchi more than once a day; more than 60 percent have it for breakfast, lunch and dinner.
According to Jia Choi, president of http://www.ongofood.com/" rel="nofollow - O'ngo Food Communications , a cookery school in Seoul, kimchi forms the basis of a perfectly balanced meal: several dishes made with seasonal vegetables, with a smaller quantity of rice or noodle dishes providing the carbohydrate.
Traditionally, meat was never considered part of the Korean culinary jigsaw, and the famed barbecue restaurants that line Seoul's streets today only took off after the city hosted the summer Olympics in 1988.
"The Unesco award certainly gave us an added sense of pride," said Choi, who hopes kimchi's international recognition will boost consumption among her young compatriots. "Interest in traditional Korean traditional cuisine is waning. Kids today eat a more varied diet that includes a lot more western food, and that's why kimchi consumption is declining year after year."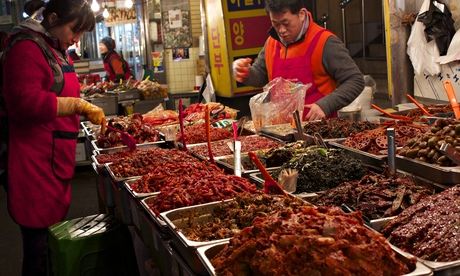 A stall selling kimchi in South Korea. Photograph: Justin McCurry for the Guardian
If children develop a kimchi habit while dining out, they will almost certainly be served the Chinese version. Chinese kimchi is cheaper and, for most diners, impossible to identify as a "fraud". The trade deficit, coupled with declining consumption at home, has been described by one politician as an ordeal "as harsh as a Korean winter". But South Koreans are now looking beyond their own borders to secure kimchi's long-term future.
Korean cuisine has been part of the trendy food scene in parts of California for several years and was among Forbes magazine's top 10 food trends of 2013.
Kimchi and other staples such as http://en.wikipedia.org/wiki/Bulgogi" rel="nofollow - bulgogi [], http://en.wikipedia.org/wiki/Japchae" rel="nofollow - japchae [] and http://en.wikipedia.org/wiki/Samgyeopsal" rel="nofollow - samgyeopsal are also finding their way on to menus in parts of the areas of the UK outside the Korean expat enclave of New Malden.
Many Britons had their first taste of kimchi, along with more than 100 other Korean foods during a two-week Tesco promotion at the end of last year, when overall imports of Korean food products to the UK rose 135 percent compared with 2012.
And after years of being overlooked, Korean cuisine has joined other Asian cuisines on the UK celebrity chef beat, as demonstrated by the Hairy Bikers in a programme from South Korea that aired this week.
"We need to keep pushing Korean-made kimchi as authentic, in the same way that European countries promote their cheese and wine," said Choi. "We're a tiny country compared to China, so although we can't compete in terms of volume, we can remind people around the world that our kimchi is authentic and safe."