NO MORE FUR: Wendy Williams GOES NAKED For PETA Ad Campaign
Nov 28 | by http://theybf.com/users/natasha" rel="nofollow - Natasha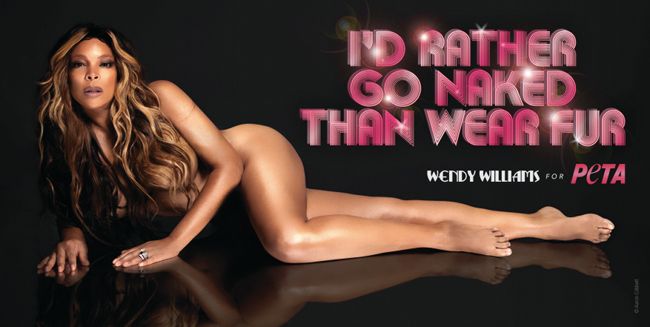 She's changed up her lifestyle quite a bit since becoming a daytime tv star. Now, Wendy Williams is telling the world she's also giving up her fur life. And she's just gone totally naked for PETA's new "I'd Rather Go Naked" ad.
Check it out under the cut...
Wendy unveiled her hot new ad today in Times Square for PETA's new winter campaign. And she's become a new spokesperson for the organization who is against the mistreatment of animals and people wearing animal fur. Wendy, who once wore real mink and fox but had a change of heart after learning how animals are electrocuted, beaten, and even skinned alive for their fur, said today:
"We should all try to be comfortable in our own skin and let the animals keep theirs."
And the daytime diva has not one, but two nude ads where she's covering her lady lumps with nothing but her own wiggery and her fat wedding ring:
In addition to her ad, Williams will encourage her viewers to donate their fur coats to PETA so that they can be given to the homeless. PETA is working with shelters in Williams' home state of New Jersey on their coat drives this winter, which have seen greater demand as the numbers of the needy and displaced have increased after Hurricane Sandy.

Check out her behind the scenes shoot footage below:









-------------
Stupid ppl are like a unicorn. They too do not exist. They are just liberated... liberated from knowledge. -nycdiva