The stars of the upcoming film Django Unchained, Kerry Washington & Jamie Foxx, cover the latest issue of LA Confidential. See their "Unchained" photoshoot inside and get deets on Kerry's appearance on "Oprah's Next Chapter.".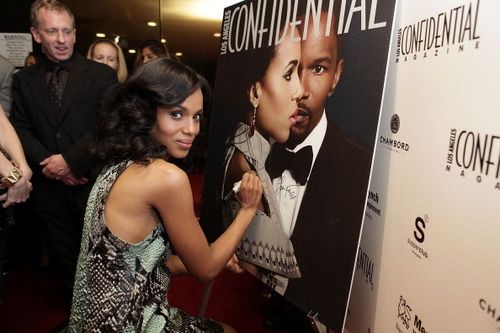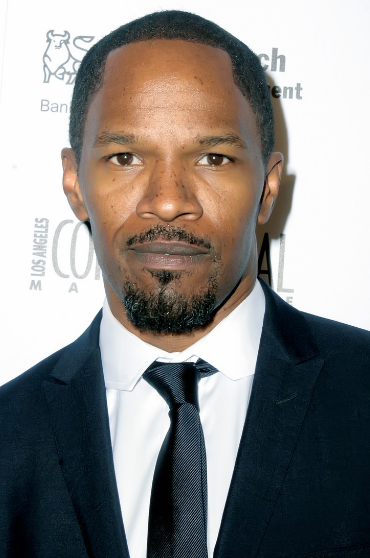 Last night, LA Confidential cover stars Kerry Washington and Jamie Foxx attended the mag's 10th Anniversary Event at SupperClub in Los Angeles.
On the red carpet, Kerry posed with her "Scandal" co-stars, actresses Bellamy Young, Katie Lowes and Darby Stanchfield.
Her "Scandal" co-star Guillermo Diaz also posed on Kerry's arm.
Inside the magazine, Kerry and Jaime, who star in Django Unchained (December 25), dished on their on-screen chemistry, some of the obstacles that face Black actors and their first meeting. Here are the highlights:
Kerry on their natural chemistry:
"What you see with Jamie and me—it's rare. But it comes from a whole lot of crying, a whole lot of sharing, a whole lot of blood, sweat, and tears."

Jamie on when he first met Kerry?:
"I remember exactly when I first saw you. You were driving up in your little green car. 'Little Miss Do-good. Keepin' the community clean so we can stay a little longer on the earth,' and I'm thinking, Here comes somebody!"

Kerry on adversity for black actors:
"My grandmother was a maid on Park Avenue and her grandmother was a slave. The expectations about what's possible for African Americans is always shifting and always growing, but Jamie's right: If you're black in Hollywood, you have to be twice as good and work twice as hard as everybody else."
In the magazine....
ON KERRY: Gazar gown with hand-burnt palettes, Houghton ($4,800). Earrings, Jamie Wolf ($4,310). Neiman Marcus, Crystal feather circlet, Jennifer Behr ($595). Duchesse calf pumps, Bottega Veneta ($780). ON JAMIE: Diamond and gold jacquard dinner jacket ($4,590), shirt ($560), pants ($990), and bow tie ($245), Tom Ford.Watch and shoes, Jamie's own.

ON KERRY: Dress, Mary Katrantzou. Teardrop earrings, Harry Winston ($18,500). ON JAMIE: Velvet dinner jacket ($4,130), shirt ($560), and bow tie ($245), Tom Ford.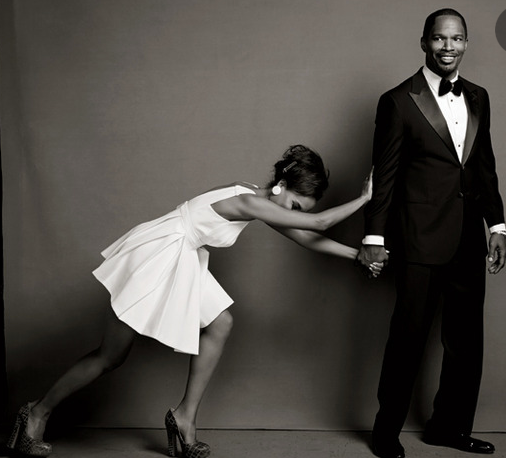 ON KERRY: Dress, J. Mendel ($1,990). Disco Grande earrings, Vhernier ($78,000). Serpenti ring, Bulgari ($24,300). Barrette, hairstylist's own. Shoes, Vivienne Westwood ($555).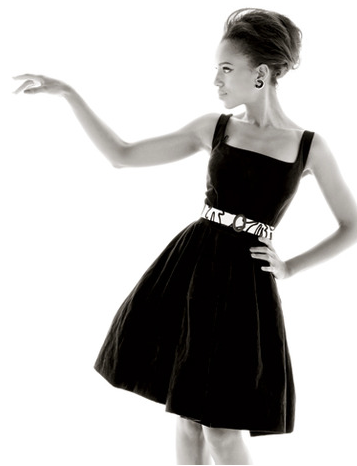 Velvet tank dress, Lanvin ($5,855). Barneys New York. Belt, Chanel (price on request). Decades. Verso Medio earrings, Vhernier (price on request).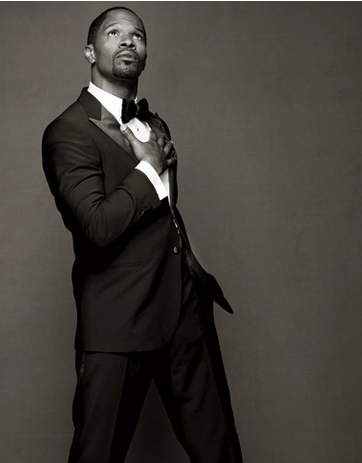 Tuxedo, Giorgio Armani ($4,000). Bow tie, Tabb ($275). Shirt, stylist's own.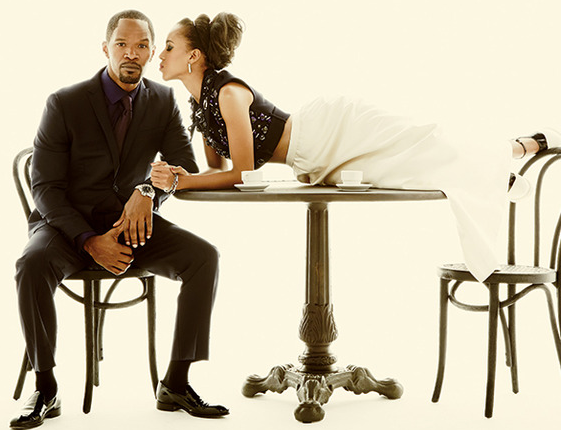 ON JAMIE: Narrow peak-lapel tuxedo ($2,054) and purple shirt ($309), Ozwald Boateng. Silk tie, Tom Ford ($205). Watch and shoes, Foxx's own. ON KERRY: Tricotina embellished jacket, Prada ($1,195). Skirt, Yves Saint Laurent. Black agate matchstick earrings, Pade Vavra ($270). Oval link bracelet ($19,800) and rectangular link bracelet ($16,500), Martin Katz. Headband, hairstylist's own.
Gorgeous shoot!