TV FAB: Kerry Washington And A More Obvious BABY BUMP Hit Jimmy Fallon, Shoots Down "Lesbian" Rumors , Stars In New "SNL" Promo With Eminem
Nov 01 | by _YBF
"Scandal" star Kerry Washington appeared on Late Night With Jimmy Fallon where she dished on this weekend's "SNL" hosting gig and revealed her girl group "doo wop" roots. Watch the interview and "SNL" promo inside, and see Kerry shoot down rumors that she's a lesbian!
Emmy-nominated actress Kerry Washington, who's reportedly four months pregnant, showed off a much more obvious growing baby bump under these black & white separates as she strolled to the couch for a chat with talk show host Jimmy Fallon. They chatted about the third season of "Scandal" and her upcoming gig as the host of "SNL".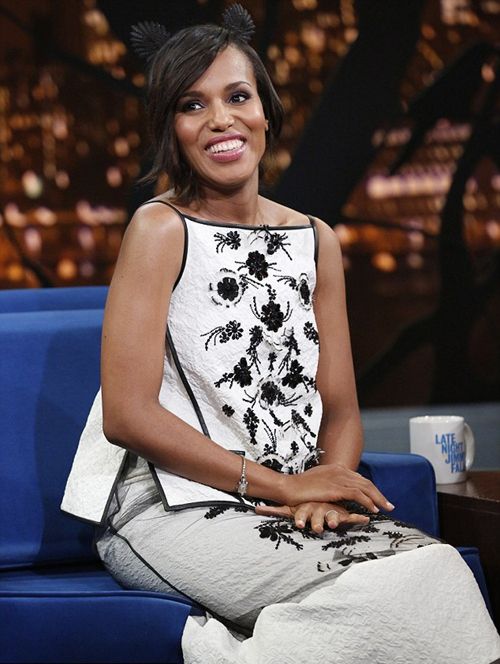 During the chat, Kerry hinted that fans would get to hear her sing during one of her SNL sketches and she revealed that she was a member of a "doo wop" group at Spence (an all-girls high school) in New York. Who knew?!
Though she didn't discuss sexuality with Jimmy, Kerry has made headlines for comments in an interview with The Advocate where she shot down rumors about being a lesbian. She said,
"I like how people will post pictures of me with other women that I adore, hugging on the red carpets, and say, "See?" Are we so uncomfortable with love between two people of the same gender that we immediately label it as sexual?'
Kerry admits that keeping her "personal" life out of the headlines naturally raises people's suspicions.
'It's interesting how much people long to fill in the gaps when someone in the public eye doesn't share their personal life,' she said. 'I understand their frustration. I've never been bothered by the lesbian rumor. There's nothing offensive about it, so there's no reason to be offended.'
Hmmm....we've NEVER heard rumors about Kerry being a lesbian. We wonder if she's doing the "Olivia Pope" thing and "changing the conversation" so we won't ask her about her husband and baby?

And tomorrow night......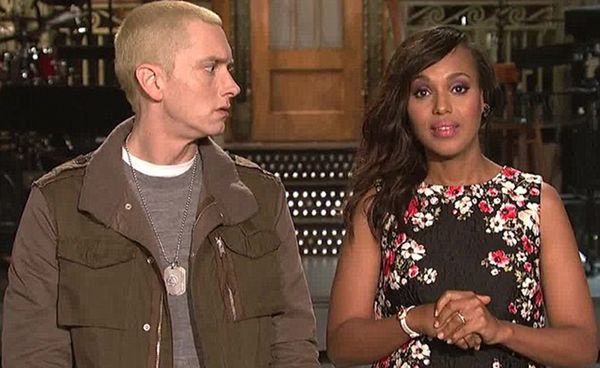 Kerry Washington will host "SNL" for the first time alongside musical guest Eminem. Watch their new promo below: