MAGAZINE FAB: Kerry Washington Sizzles On GLAMOUR Cover, Says She'll Keep Her MARRIAGE Private

Sep 03 | by _YBF
Kerry Washington and Jamie Foxx are two YBFers who are heating up magazine racks for the month of October. Get the deets on what Kerry did(n't) reveal about her marriage and how Jamie Foxx stays "current" inside.....
"Scandal" star Kerry Washington looks absolutely stunning on the October issue of Glamour magazine where she talks about the upcoming season of "Scandal" (the promo had us gagging!), how Tracee Ellis Ross taught her how to pronounce Hermes, and why she's keeping her recent nuptials private.
We've all come to know Kerry for being charismatic, yet very private. And in this latest interview, it's apparent that she knows how to talk about her private life....yet reveal nothing! But....we love her anyways. Here are the highlights:
On her marriage and private life:

I learned through experience that it doesn't work for me to talk about my personal life. I've had earlier times in my career when I did talk about it. I was on the cover of a bridal magazine [InStyle Weddings, in 2005, when Washington was engaged to actor David Moscow]. But I couldn't just turn around and say, "I only want to talk about the good stuff, but not the bad stuff." So I just thought, "OK, no more."

I don't want to sound smug about it…but the point is to do what's best for me. I have girlfriends in this business who talk about their personal lives, and it works for them, and I love it. But not for me.

On her wedding:

Absolutely! I'm walking around in the world with my ring. And when people say congratulations, I say thank you. But I'm going to continue to not talk about it and just let it unfold.




On fashion and the red carpet:

It started out as, like, Good-Student Kerry. OK, I'm going to admit this: There were a couple of actresses whom I felt were having the upper hand careerwise—because they knew how to work that red carpet. I was like, "I'm missing a really important tool. If I am the CEO of the Kerry Washington Corporation, my marketing department is really lax." So I sort of developed a new character: Red-Carpet Kerry.

And I researched her like any other character. I actually called Tracee Ellis Ross, who's a good friend, and literally asked, "How do you pronounce Hermès?" Red-Carpet Kerry needed to know.
Read additional snippets here and pick up a copy on newsstands September 10.
See the photoshoot here: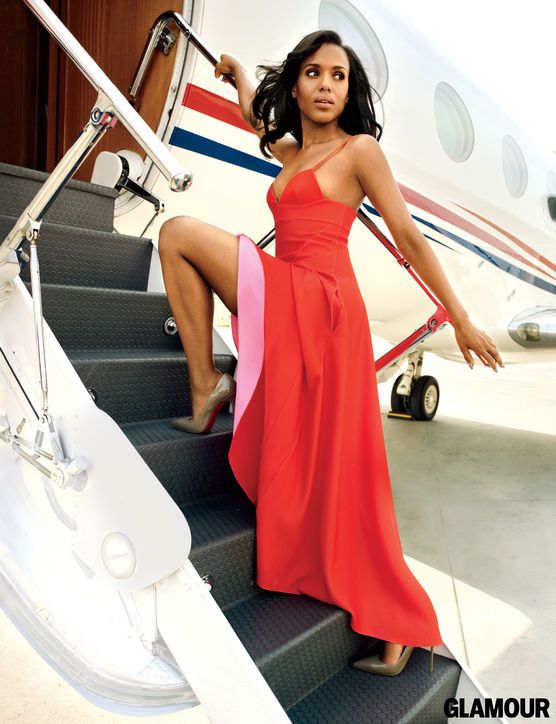 Dress, Dior; pumps, Christian Louboutin.
Dress, Dior.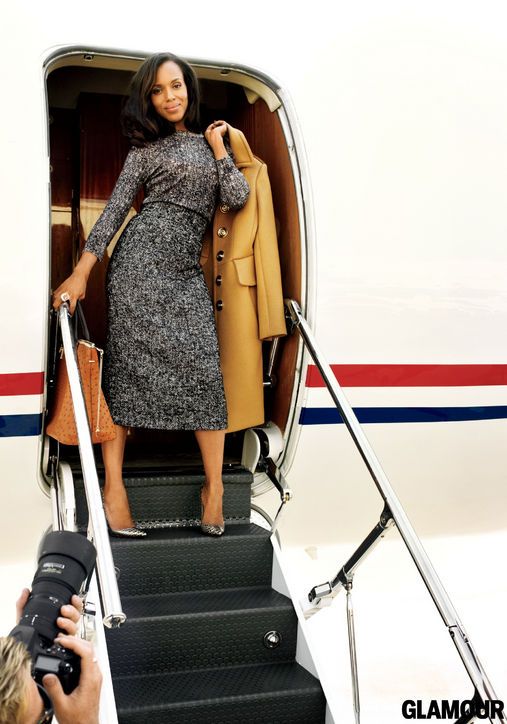 Sweater, skirt, Dolce & Gabbana; coat, Burberry Prorsum; ring, H.Stern; bag, Chloe; pumps, Christian Louboutin.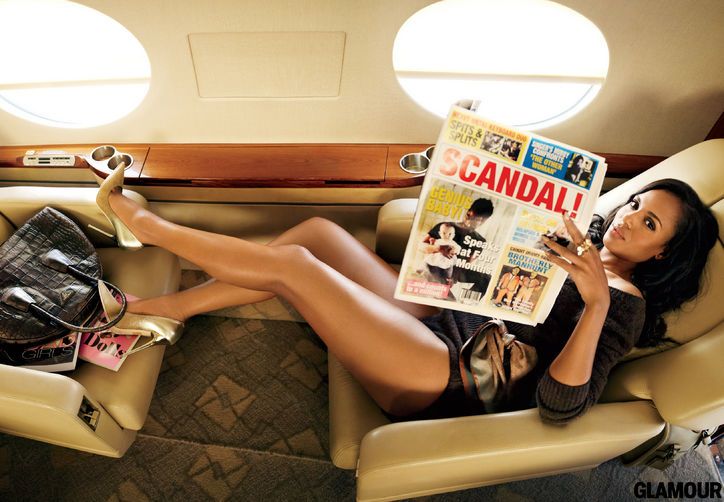 Bodysuit, scarf, Louis Vuitton; diamond ring, Van Cleef & Arpels; bag, Prada; pumps, Jimmy Choo.