Felton arrested on gun charges
The wife of Raymond Felton has alleged that he threatened her with a firearm, according to multiple reports, and the New York Knicks point guard remained in police custody Tuesday after his arrest for gun charges.
Felton turned himself in at 12:50 a.m. ET Tuesday, not long after the Knicks lost to the Dallas Mavericks in a buzzer-beater at home, police said.
[+] Enlarge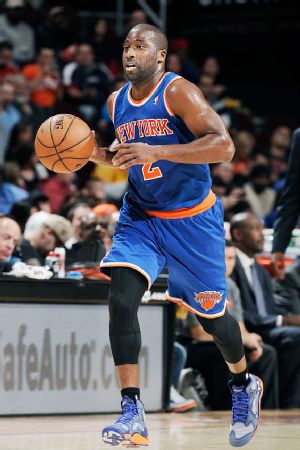 Liam Kyle/NBAE/Getty ImagesKnicks point guard Raymond Felton faces three counts of criminal possession of a weapon.
But before the Monday night game, an attorney for wife Ariane Raymondo-Felton arrived at a Manhattan police precinct with a Belgian-made FN Herstal pistol, police spokesman Sgt. Lee Jones said. Ramondo-Felton later went to the precinct that night and made a statement to detectives, police said.
Investigators then contacted the director of security at Madison Square Garden in an attempt to reach Felton, police said.
Felton made no statement after he arrived at the precinct with a lawyer, police said.
He was charged with second- and third-degree criminal possession of a firearm, which are felonies, and fourth-degree possession of a firearm, a misdemeanor, a police spokesman told ESPNNewYork.com. Police said Felton was in possession of a gun he wasn't registered to own.
Felton is expected to appear in criminal court in Manhattan later Tuesday.
Raymondo-Felton is a law student at Fordham University School of Law, a spokeswoman confirmed. Court records show she filed for divorce from Felton on Feb. 18.
NBA spokesman Tim Frank said the league is "monitoring" Felton's situation. A Knicks spokesman said the team had no immediate comment on Felton's arrest.
The Knicks had no game scheduled Tuesday. They next play against the Heat in Miami on Thursday.
Felton, 29, signed a three-year, $10 million contract with the Knicks before the 2012-13 season. He has struggled this season, his ninth in the NBA, shooting 40.3 percent from the field and 29.6 percent from 3-point range while averaging 10.4 points per game. The Knicks offered him in several packages before Thursday's trade deadline but couldn't complete a deal.
New York City has strict gun possession laws.
In 2009, New York Giants wide receiver Plaxico Burress was sentenced to two years in prison after accepting a plea deal on a firearm charge following an incident in which he suffered a self-inflicted gunshot wound to his thigh when his gun went off in a Manhattan nightclub. He faced a minimum sentence of 3½ years if convicted at trial.
ESPNNewYork.com's Ian Begley and The Associated Press contributed to this report.
http://espn.go.com/new-york/nba/story/_/id/10514816/raymond-felton-new-york-knicks-arrested-weapons-charges
From being being teased by fans as a fatty to possible felon.