Nicki Minaj Gives Sneak Peek Of "Pills N Potions" Video On "GMA"
Jun 06 | by Natasha
Nicki Minaj brought her "Pills N Potions" video sneak peek to "GMA" this morning. Check out what the pink lady had to say about it, and who she nabbed as her leading man in the video...
Nicki stopped by "GMA" this morning to chat it up with Lara Spencer about her brand new video for "Pills N Potions". The track is the lead single off her upcoming album The Pink Print, and she dished on the inspiration behind it all.
When asked about her new natural look and sound in the video and beyond, Nicki revealed:
"It's just a toned down look. It takes a lot less time to get out the house. And I'm using my natural hair....The crazier you look the crazier you think you can be. But I think at a certain point you have to be able to turn that on no matter how you look. And that's kind of where I am right now."
And about that release date for The Pink Print, Nicki said she's purposely keeping it under wraps.
"It will be out this year. I know the date but I don't want to say the date. I want people to absorb the singles as they come out."
The MYX Moscato honcho also revealed that she's on a mission to be a mogul like the male rappers that came before her.
She pulled a page out of her "Right By My Side" video treatment (where rapper Nas was her love interest) and nabbed another sexy rapper, The Game, as her leading man.
Check out the 47 second video snippet of "Pills N Potions" below:
She's slated to premiere the full video on Monday after appearing on "Live with Kelly & Michael".
BONUS: Nicki posted a pic of her stalkers/Barbz who were waiting outside her hotel room this morning: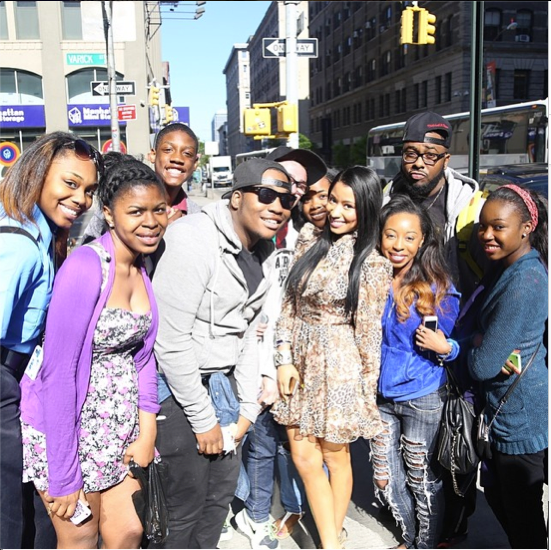 Cute.