I wanted to come and show my new hair that I ordered from a vendor amongst the board. I'm going to make this really brief and straight to the point and of course, when I have the hair installed ill be back to update.
Specs:
"Mongolian" Deep Wave
1-16in
1-18in
1-22in
1-14in closure
Color 1b
$308.72 for 3bundles,1closure +shipping.
Just some insight on the hair, custoner service, etc: I had been looking for a vendor to replicate a deep wave texture for me and spoke to several but also needed a closure so I just decided to go with Roman cause Ive had experience with him and his closures which are pretty good. He was very helpful in the process and patient with me. We talked for several days about hair types and prices before I decided. He mentioned people usually order his brazilian but on here, the brazilian didnt get good reviews to me so I just ordered the mongolian type of texture in deep wave/curly since I wanted a closure to match, it became a custom order and it would take 3-4wks to receive, I was fine with that. Last week, I got anxious and he let me know that he was not in the factory and would check as soon as he gets back, so on the 7th I was sent fedex tracking that was stating it would be delivered by the 14 but on the 9 it was already in houston so I went ahead and set up for the hair to be kept in the leasing office. They are very trustworthy with residents deliveries. The hair was 308 which I think is Damn good for a total and that includes the shipping and PayPal fees. ALSO, He does still take PayPal.
He sent me pics of what his deep wave texture looked like and needless to say, my hair looks just like it. Now for some pics.
this is the back of the closure, the knots are suppose to be bleached, but they are not. That is by far the only issue I have with Roman... so I'll be bleaching them in a while
this is the front of the closure
16in
18in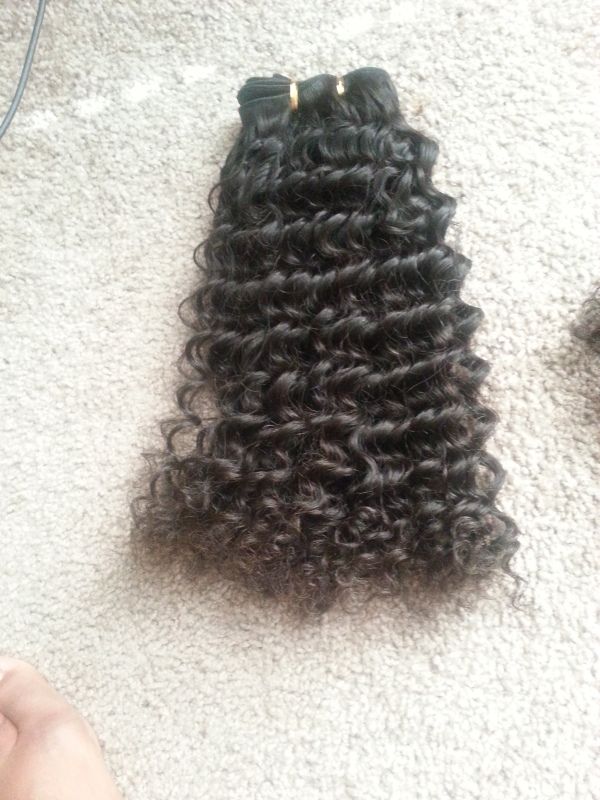 22in
wash pics - I washed with suave shea + cocoa butter shampoo or something like that? lol its the one in the green bottle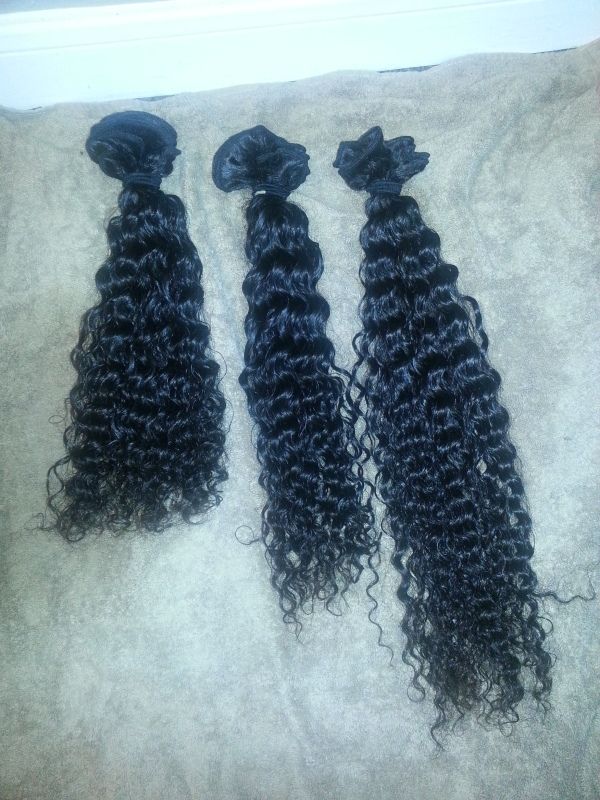 this is my closure washed and also it has tresemme naturals conditioner, the silicon free one. I absolutely love this conditioner... it gives so much slip that it's just unbelievable... I use this on my natural hair too and it gives my hair life, gets all my curls poppin and it did the same for my closure too... my closure looked just liked the bundles up until I used the conditioner which I just racked a small palm of it through the hair
all the hair together with conditioner in the bundles. I didn't rinse out the conditioner.... I ended up using some creme of nature deep condition tube and raked that through the hair as well especially on the ends, put the hair in a container and put it in the microwave for 5mins, took it out, covered it with a lid and let it deep condition overnight.
I took the hair out of the container this morning and let it sit in front of my humidifier and it is dry and pretty. I will come back a little later with pics and hopefully will do a wig tonight if I feel up to it. My uncle just passed so my mind is all over the place. I just wanted to share my hair. Hope you all enjoy. Any questions, just ask... if need more details I can provide those too.


Edited by kgreen6110 - May 11 2013 at 2:12pm