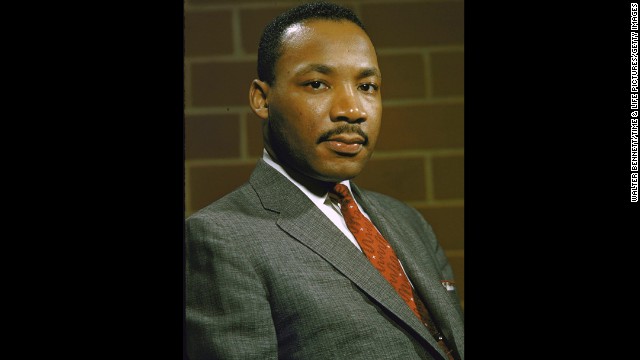 American civil rights leader the Rev. Martin Luther King Jr. is best known for his role in the African-American civil rights movement and nonviolent protests. His life's work has been honored with a national holiday, schools and public buildings named after him, as well as a memorial on Independence Mall in Washington. Take a look back at the civil rights leader's defining years.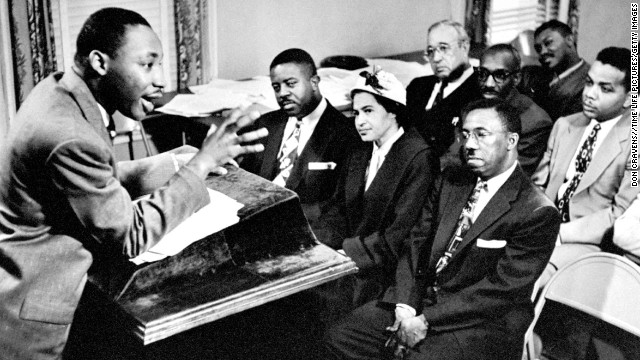 King outlines boycott strategies to his advisers and organizers on January 27, 1956. Seated are the Rev. Ralph Abernathy, left, and Rosa Parks, center, who was the catalyst for the protest of bus riders.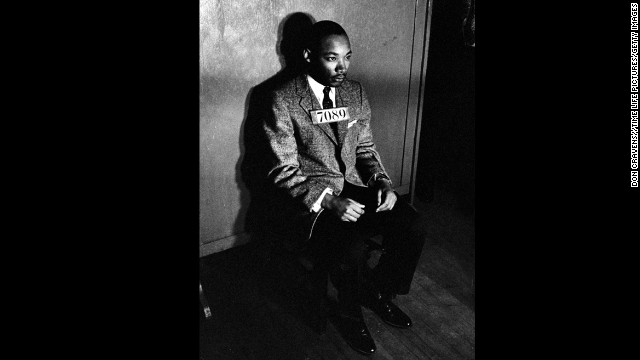 King sits for a police mugshot after his arrest for directing a citywide boycott of segregated buses on February 24, 1956.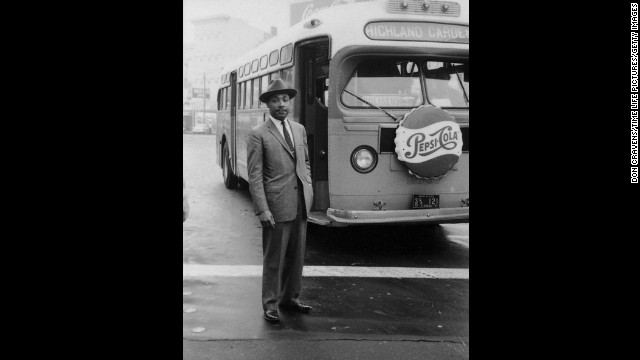 King stands in front of a bus at the end of the Montgomery bus boycott in Montgomery, Alabama, on December 26, 1956.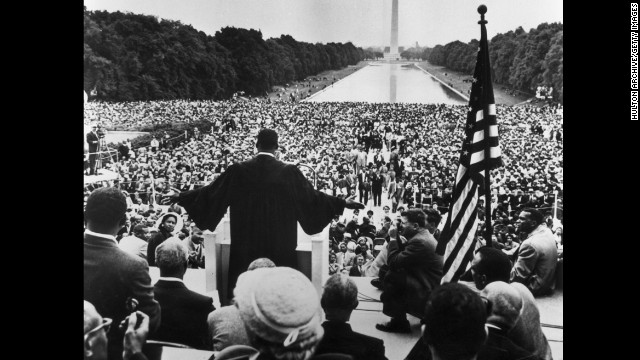 King speaks during the Prayer Pilgrimage near the Reflecting Pool in Washington on May 17, 1957.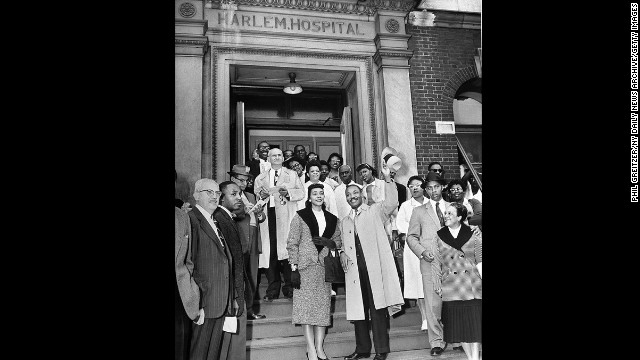 Accompanied by his wife, Coretta Scott, King leaves Harlem Hospital after being stabbed near the heart on September 20, 1958. The near-fatal incident occurred when he was autographing copies of his book at a Harlem bookstore.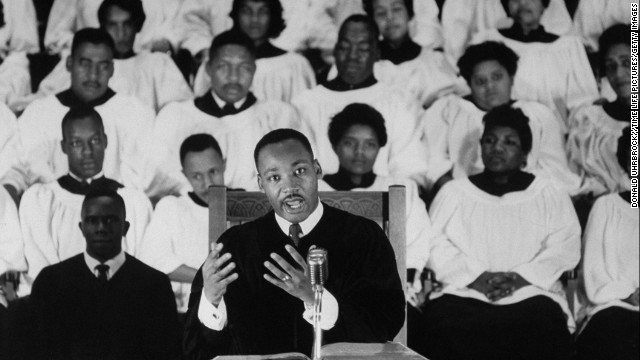 King delivers a sermon at Ebenezer Baptist Church in Atlanta in September 1960.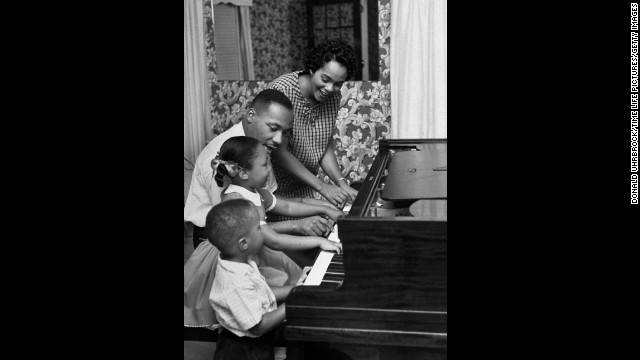 King, his wife and children, Yolanda, 5, and Martin Luther III, 3, play the piano together in their living room in Atlanta in 1960.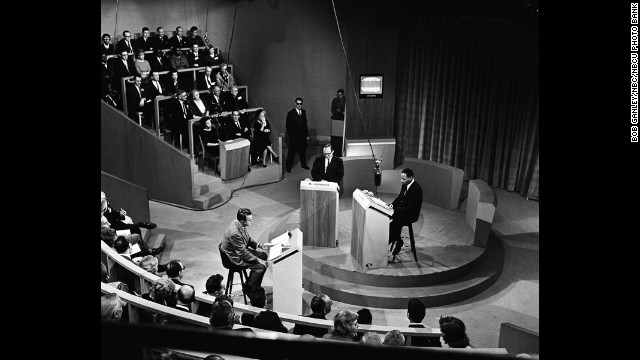 Moderator John McCaffery, left, segregationist editor James J. Kilpatrick and King debate segregation in New York on November 11, 1960.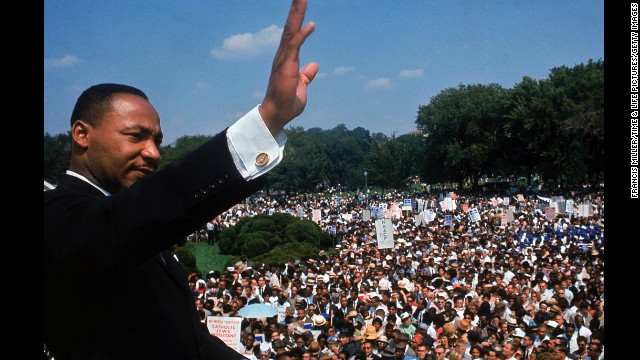 King addresses a crowd of demonstrators outside the Lincoln Memorial during the March on Washington for Jobs and Freedom in Washington on August 28, 1963. He delivered his famous "I Have a Dream" speech to more than 250,000 people.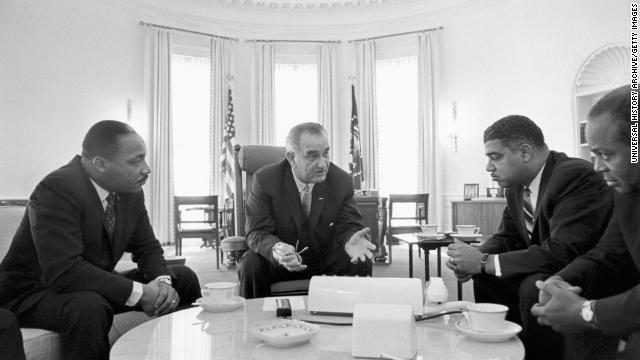 President Lyndon B. Johnson talks with King and civil rights leaders at the White House. On July 2, 1964, Johnson signed the Civil Rights Act into law.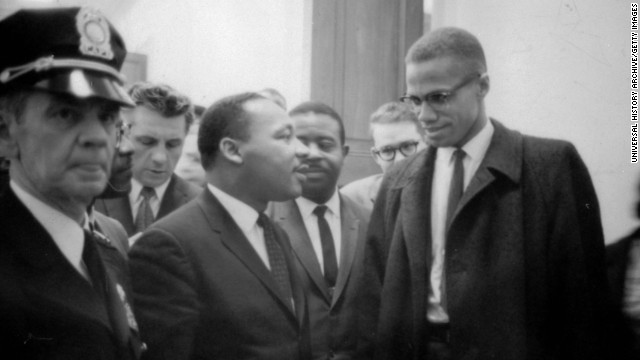 King speaks with Malcolm X at a press conference on March 26, 1964.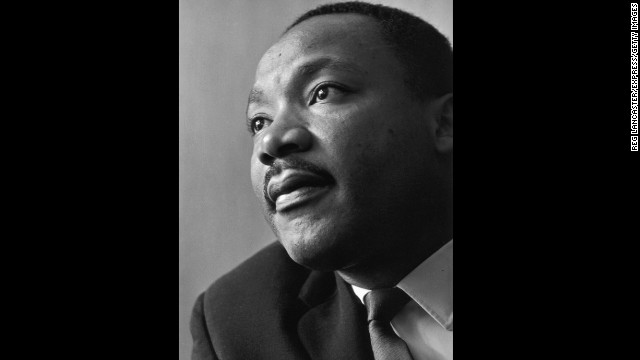 In 1963, King became the first African-American to be named Time magazine's Man of the Year.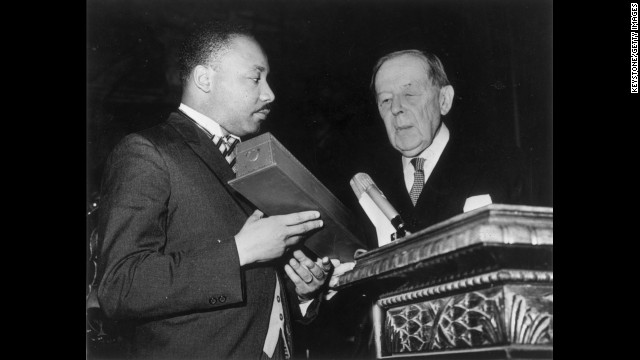 King receives the Nobel Prize for Peace from the president of the Nobel Prize committee, Gunnar Jahn, in Oslo, Norway, on December 10, 1964. At the time he was the youngest person to win the prize.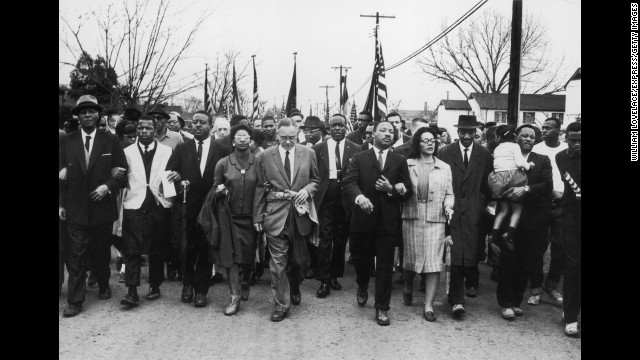 King and his wife lead a black voting rights march from Selma to Montgomery, Alabama, on March 30, 1965.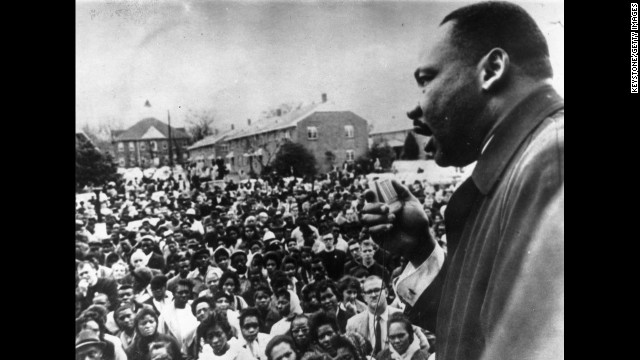 King addresses civil rights marchers in Selma in April 1965.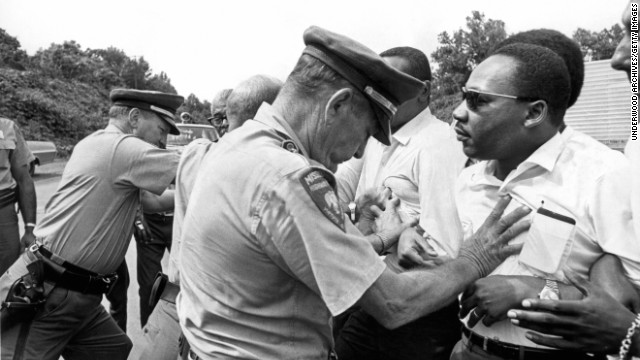 Mississippi patrolmen shove King during the 220-mile "March Against Fear" from Memphis, Tennessee, to Jackson, Mississippi, on June 8, 1966.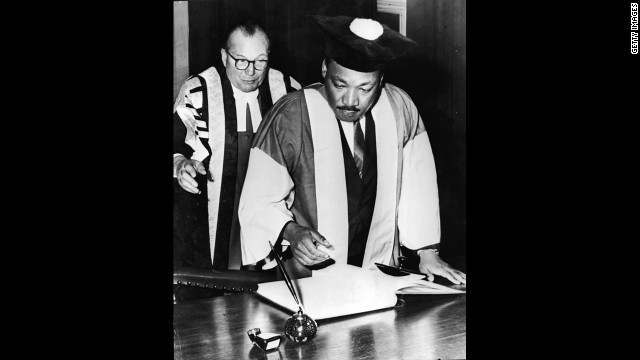 King signs the Degree Roll at Newcastle University after receiving an honorary Doctor of Civil Law degree, in Newcastle, England, on November 14, 1967.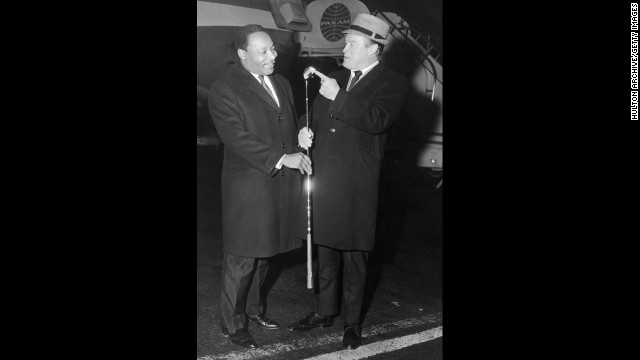 King and comedian Bob Hope, right, talk at John F. Kennedy International airport in New York on November 14, 1967.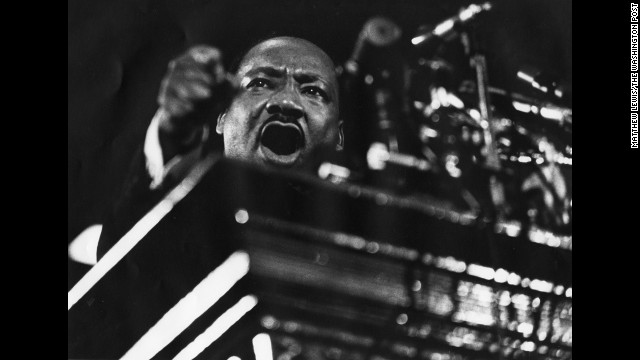 King speaks at Vermont Avenue Baptist Church in Washington in February 1968.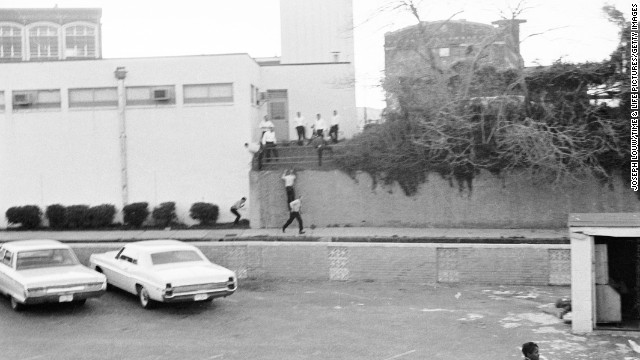 Pictured is an area around the Lorraine Motel in Memphis, where King was murdered on April 4, 1968. He was gunned down on a hotel balcony by James Earl Ray, who confessed to the assassination and was sentenced, but he promptly recanted and attempted to be tried on an innocent plea. He died in prison in 1998.
.
Can you name any of his great speeches or written works without citing "I Have a Dream" or the "Letter from Birmingham Jail"?
Most Americans would likely flub this quiz. King may be a national hero whose birthday the country commemorates on Monday, but to many he remains a one-dimensional hero -- the vast body of his work unknown. Though he wrote five books and delivered up to 450 speeches a year, he's defined by one speech and one letter.
What then are the great works by King that never get the attention they deserve?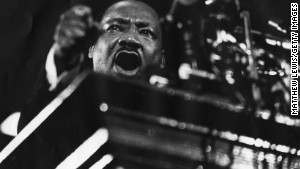 Martin Luther King speaking at Vermont Ave. Baptist Church in Washington, Febuary 1968.
That's the question CNN put to some members of King's inner circle as well as top King scholars. We asked them to pick their favorite overlooked gems from King, any extraordinary spoken or written words people don't typically hear during King commemorations.
Six entries made our final cut: three sermons and speeches, King's most radical book, an astonishing letter he wrote as a college student, and a "eulogy" he delivered for a friend that revealed a side of him the public rarely saw.
'A Time to Break the Silence'
Sermon delivered at Riverside Church in New York on April 4, 1967.
Why it's important: This was King's most controversial speech. Even some members of his own staff warned him not to give it. With this sermon, King decisively came out against the Vietnam War at a time when many Americans still supported it. People were furious. President Lyndon Johnson stopped talking to him. Civil rights leaders criticized him, and major newspapers told him to stick to civil rights. Yet King put principle over personal popularity and continued to oppose the war. One year later to the day he gave this speech, King was assassinated in Memphis, Tennessee.
What he said: Money that should have been spent on Johnson's War on Poverty was being lost in Vietnam's killing fields. He said, "A nation that continues year after year to spend more money on military defense than on programs of social uplift is approaching spiritual death." The speech distilled King's belief that racism, economic exploitation and war were all connected as "triple evils."
Signature lines: "We are taking the black young men who had been crippled by our society and sending them 8,000 miles away to guarantee liberties in Southeast Asia which they had not found in Southwest Georgia and East Harlem. So we have been repeatedly faced with the cruel irony of watching Negro and white boys on TV screens as they kill and die together for a nation that has been unable to seat them together in the same schools."
What others say: "It's Dr. King's most underappreciated speech," says Vorris Nunley, a professor of rhetoric at the University of California, Riverside. "Former supporters, black as well as white, backed away from this too compassionate, too radical, too political King."
Rare recording of MLK Jr. talking about JFK released
'Our God is Marching On!'
Speech delivered on March 25, 1965, in Montgomery, Alabama, at the end of the Selma-to-Montgomery march.
Why it's important: It is one of King's most electrifying speeches. When the roaring crowd joins King in shouting "Glory hallelujah!" at the end of the speech, the march becomes a church revival. The speech was the culmination of one of the movement's most brutal but critical campaigns. Three civil rights activists were killed and other marchers were beaten at the Edmund Pettus Bridge. King gave his defiant speech while standing on the steps of the Alabama State Capitol in Montgomery, a city known as the "Cradle of the Confederacy." This was the high-water mark of the civil rights movement. The Selma campaign would spark the passage of the 1965 Voting Rights Act.
What he said: King praised the white clergy and laypeople of various faiths who traveled to Selma to face danger with African-American protesters. He said that segregation was "on its deathbed" and the movement must now be prepared to "march on poverty."
Signature lines: "They told us we wouldn't get here. And there were those who said that we would get here only over their dead bodies, but all the world today knows that we are here and that we are standing before the forces of power in the state of Alabama saying, 'We ain't going to let nobody turn us around.'
"I come to say to you this afternoon, however difficult the moment, however frustrating the hour, it will not be long, because 'truth crushed to earth will rise again.' How long? Not long, because 'no lie can live forever.' ... How long? Not long, because the arc of the moral universe is long, but it bends toward justice."
What others say: The speech marked the triumphant end of the first phase of the civil rights movement -- seeking legal and political rights -- and the beginning of a new phase focused on economic inequality, says Jerald Podair, a history professor at Lawrence University in Appleton, Wisconsin.
"We see King at a moment of triumph," Podair says. "He is on the steps of the Alabama State Capitol, near the Dexter Avenue Baptist Church from which he launched the Montgomery bus boycott, as (Alabama) Gov. George Wallace cowers in his office with blinds drawn. But he also has miles to go. America is still an economically and socially divided nation.
'The American Dream'
Sermon delivered at Ebenezer Baptist Church in Atlanta on July 4, 1965.
Why it's important: We've heard about King's dream. But just two years later he told an audience that his dream had turned into a nightmare. King's sermon addresses questions that could have been snatched from today's headlines: What is a living wage for workers in menial jobs? Is income inequality as corrosive as racial injustice? What are the challenges of preserving a multicultural democracy?
What he said: King said that class divisions within the United States "can be as vicious and evil as a system based on racial injustice." King also talked about the dignity of all work, saying that even menial workers should make enough "so they can live and educate their children and buy a home and have the basic necessities of life."
Signature lines: "About two years ago now, I stood with many of you who stood there in person and all of you who were there in spirit before the Lincoln Memorial in Washington. As I came to the end of my speech there, I tried to tell the nation about a dream I had. I must confess to you this morning that since that sweltering August afternoon in 1963, my dream has often turned into a nightmare.
I must confess to you this morning that ... my dream has often turned into a nightmare
The Rev. Martin Luther King Jr.
"I've seen my dream shattered as I've walked the streets of Chicago and see Negroes, young men and women, with a sense of utter hopelessness because they can't find any jobs. ... I've seen my dream shattered as I've been through Appalachia, and I've seen my white brothers along with Negroes living in poverty. And I'm concerned about white poverty as much as I'm concerned about Negro poverty."