On your face...
(I know some of you be all in the gutter
)
I have a permanent cast on my lips which I've always had. However over the years its gotten a lot darker. I know this might sound crazy to most, but I never sought out lip balm with spf in it at all. In fact I've been using blistex (below) for years. Well this past summer I was in the sun a lot and I noticed that my lips are getting even darker. I would like to lighten my lips up a little because the line from my inner lip & my outer lip is extremely noticeable.
Anyone have any suggestions or are having the same issue?
I'm using this now which has spf 15 in it.
I'm glad I'm not the only one who thought about this...
. I felt a little strange even making a post, so thanks for the support ladies.
I thought it would be a little easier to understand what I'm saying if I posted pictures of the issue.
The 1st is with room light the other is natural light.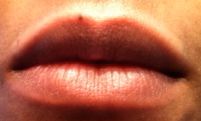 I don't smoke/never smoked.


Edited by Jewelsnyc - Dec 25 2013 at 9:59am