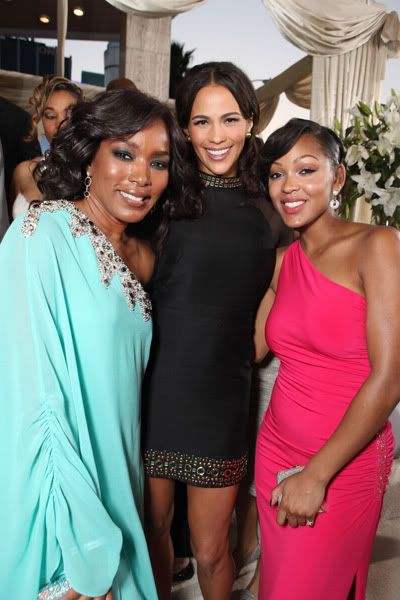 The cast of Jumping The Broom celebrated their much anticipated movie last night at the Hollywood premiere at ArcLight Cinemas Cinerama Dome last night.
I had the privilege of seeing this smartly cast, funny and romantic movie last night, and I LOVED it. I know my YBF folks will love it too. But until the movie hits theaters on Friday, check out all the fab celebs who came out to support last night...
Stars of the movie--Angela Bassett, Paula Patton, and Meagan Good, all looked gorge for the cameras. The whole ensemble cast was there with their spouses and families, plus lots of other celebs just to support.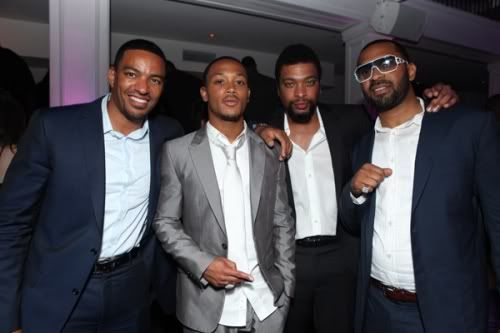 Oh yes--the sexiness factor was SERIOUS in the movie. The male stars of the movie Laz Alonso (ladies......all I can say is YUM-MY), Romeo (just as yummy), DeRay Davis, and Mike Epps, all kicked it at the premiere.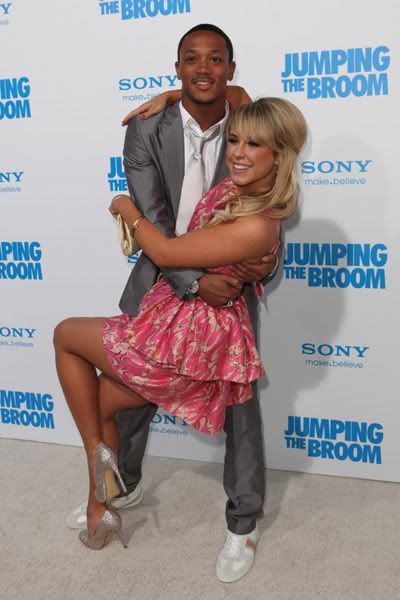 Romeo brought along his "DWTS" partner Chelsie Hightower.

Pooch Hall brought along his wife Linda. Is it just me or does she favor Rocsi a bit?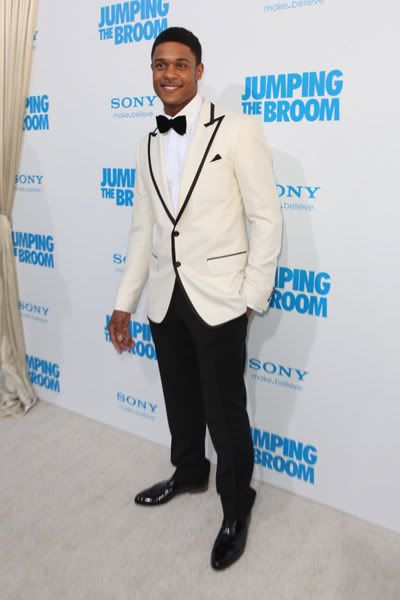 LOVES the white dinner jacket Pooch.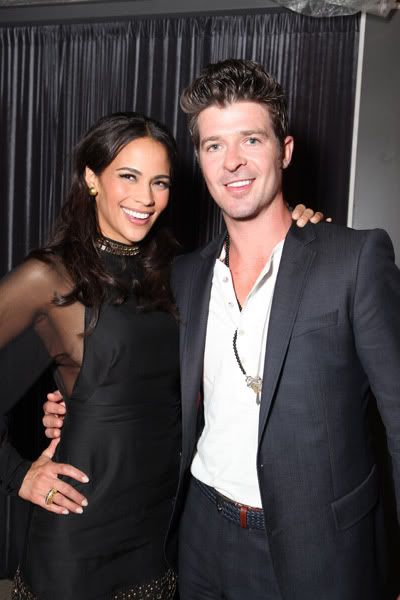 Gorgeous chick Paula had her hubby Robin Thicke by her side of course. And by the way, she shot the movie RIGHT after she had baby Julius, and she says she was so insecure about all her lingerie scenes. But chick looked amazing in the movie.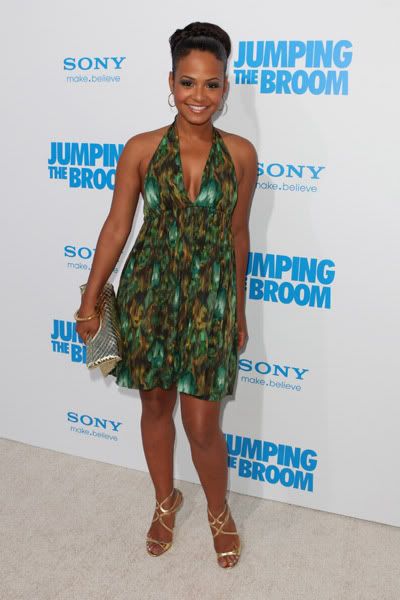 Christina Milian hit the carpet in this green summery floral dress and gold heels. Lovely look for her as usual.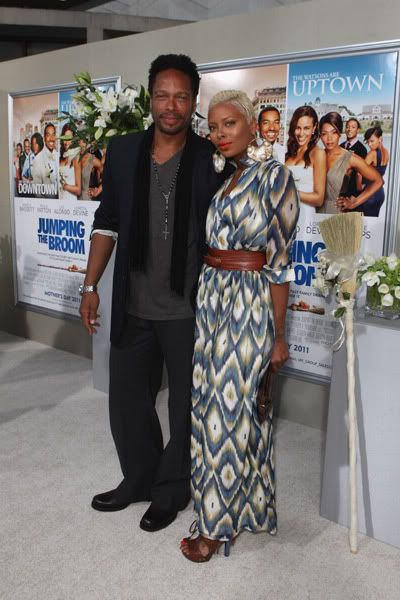 Hmmm. Did Eva Marcille jump from Flo Rida to Gary Durdan... since he's co-starring in a hit movie at the moment? Y'all know she loves her shine time...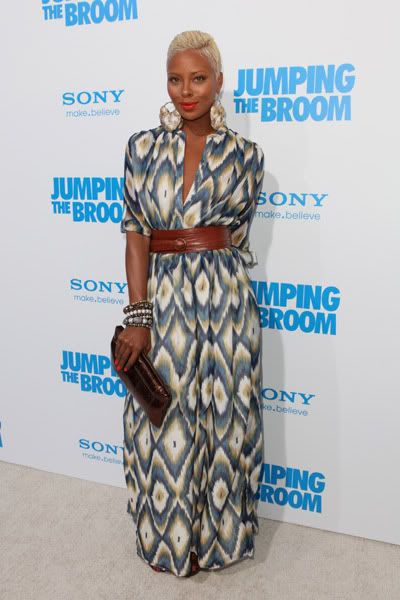 Loves this dress though.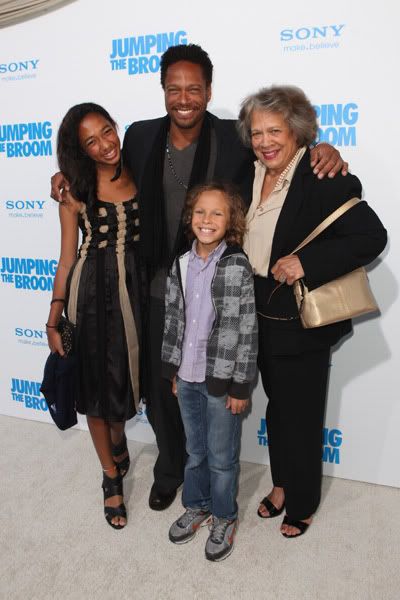 Gary brought his kiddies Nyla and Lyric and mother Sandy to the premiere. How cute!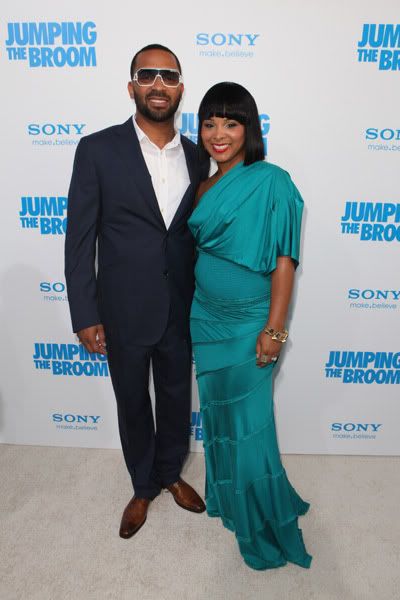 Mike Epps is funny as all hell in the movie--as expected--as everybody's fave semi-drunk and horny uncle. He hit the carpet with his hot wife Michelle.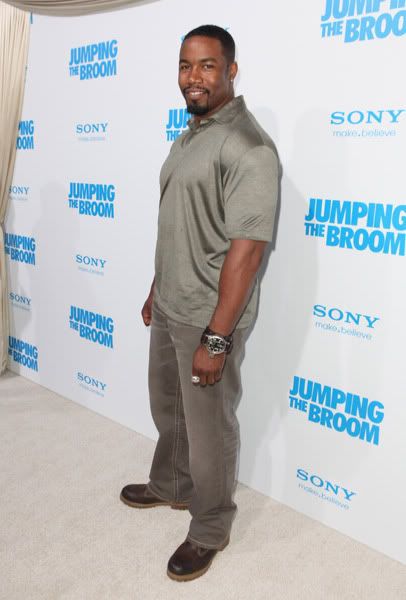 Actor Michael Jai White came out to support his homies.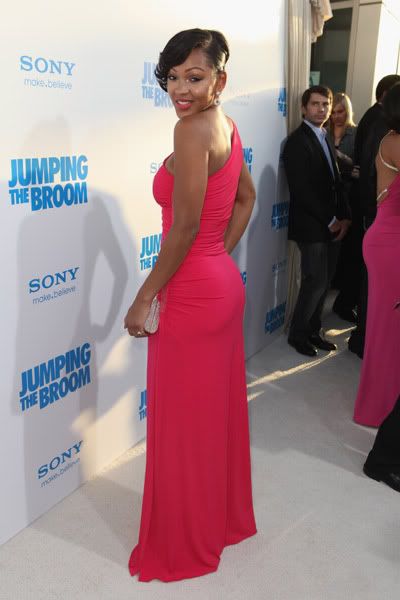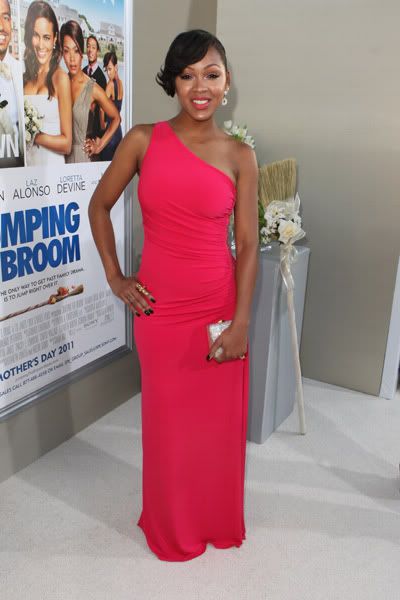 Meagan Good--Paula's bestie in the movie--hit the carpet in this long pink one-shoulder dress that works for her. Such a gorgeous girl.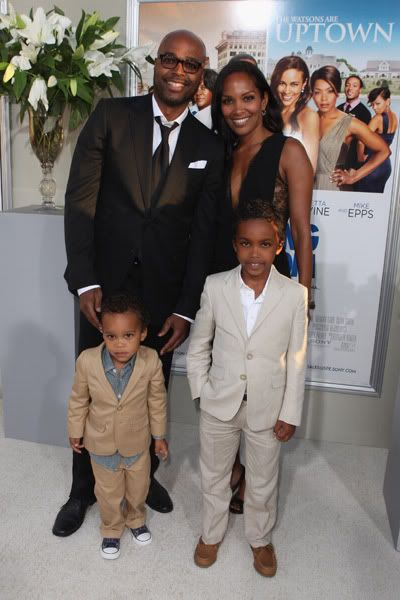 Director/Producer of the movie, Salim Akil, had his wife Mara Brock Akil and their two UBER CUTE kiddies, Yasin and Nasir, on his side for support. Little boys in little suits get me every time!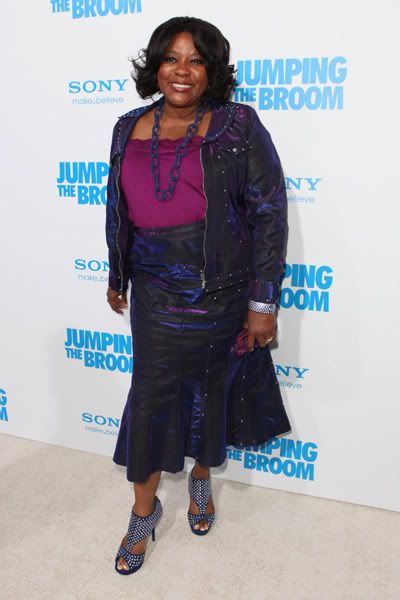 Co-star Loretta Devine's hilarious self hit the carpet. Whoever styled her for this event is wrong for this ish, but we loves her nonetheless.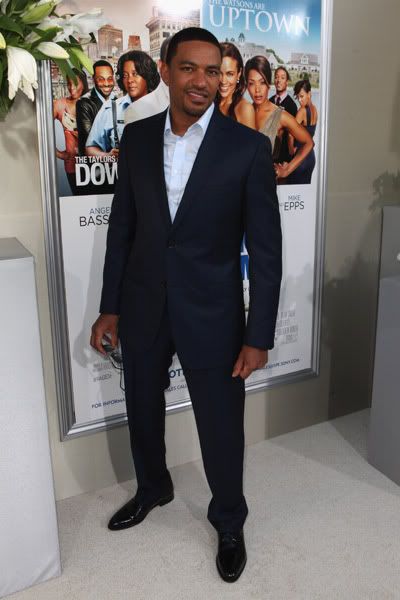 Star Laz Alonso hit the carpet looking nice.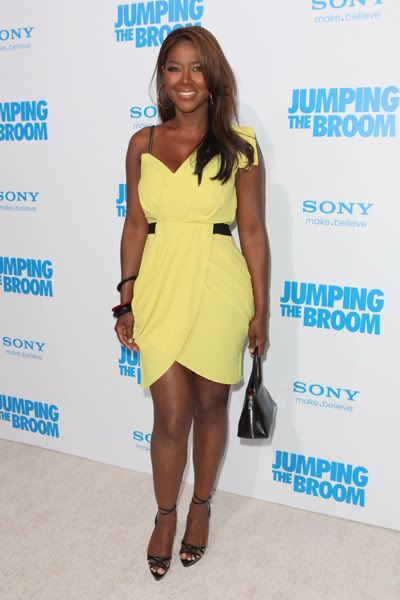 Kenya Moore popped on the carpet in yellow. Lovely.
Elise Neal turned her lingerie into a dress for the white carpet.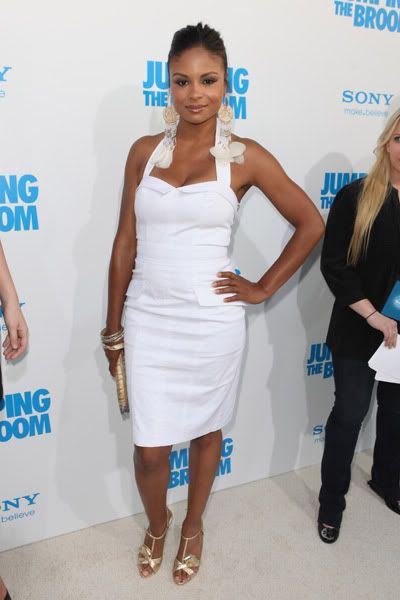 BET's Joyful Drake was there in all white and gold.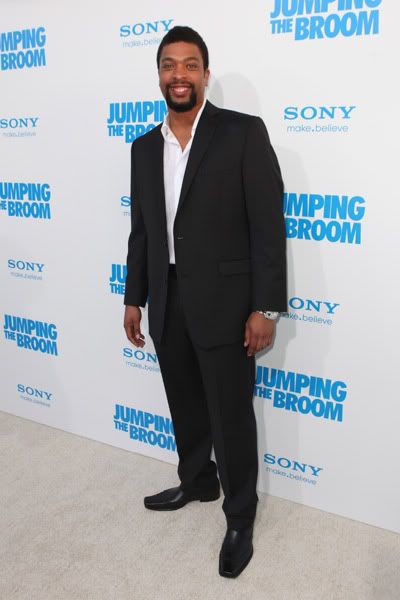 Comic and Laz's "bestie" in the movie, Deray Davis, hit the carpet.
Pretty girl Camille Winbush was there looking great in hot pink.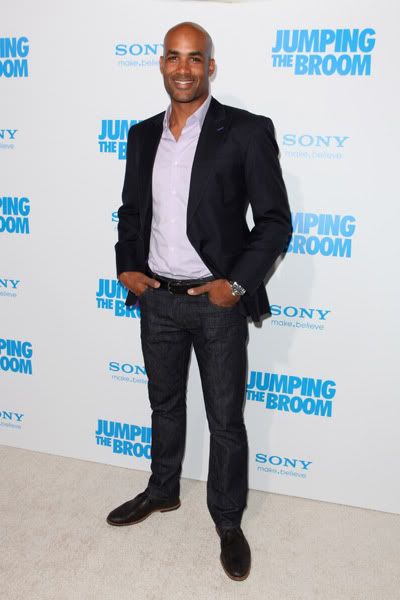 Hottie Boris Kodjoe came out to support.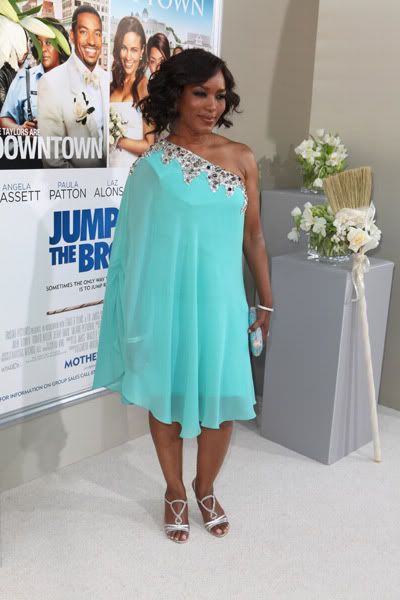 Co-star Angela Bassett got whimsical in this aqua spring embellished dress.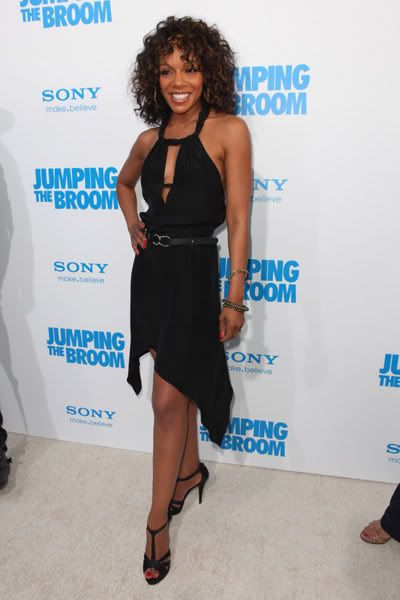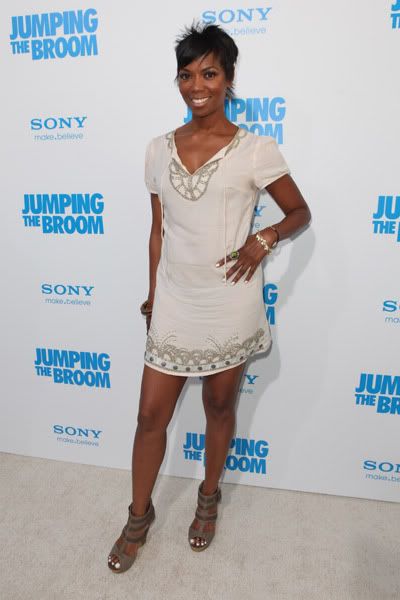 Acresses Wendy Raquel Robinson and Vanessa Williams hit the carpet to support. Is Wendy becoming a bit bobbleheadish?
That damn Tracy Edmunds. Still working it out in this gold skin tight dress. She's also one of the producers of the movie.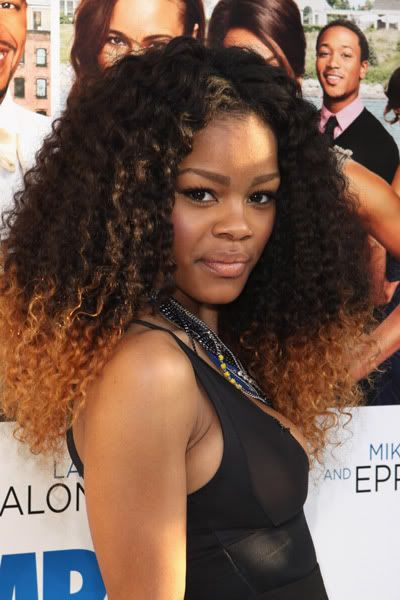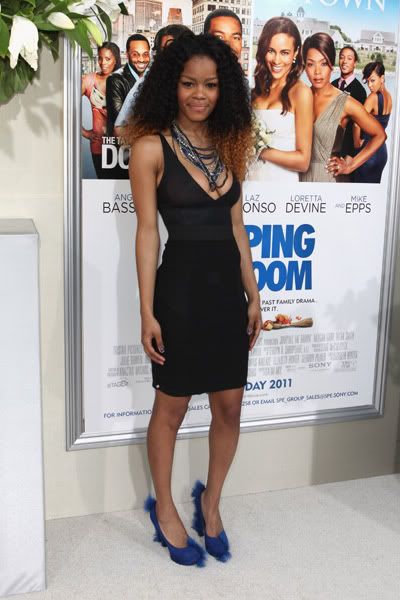 Teyana Taylor rocked a little black dress and blue suede fringe worthy YSL Mohawk pumps. Loves the hair still.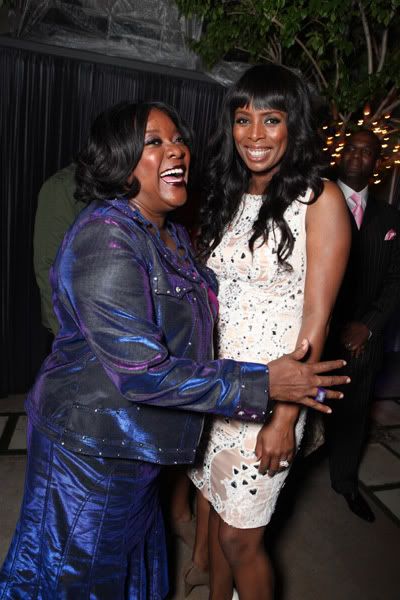 On-screen best friends Loretta and Tasha Smith kiki'd it up at the premiere.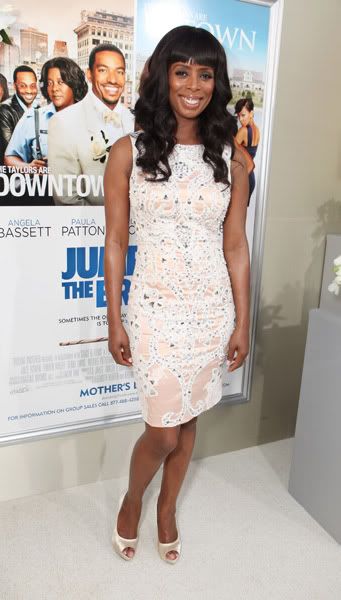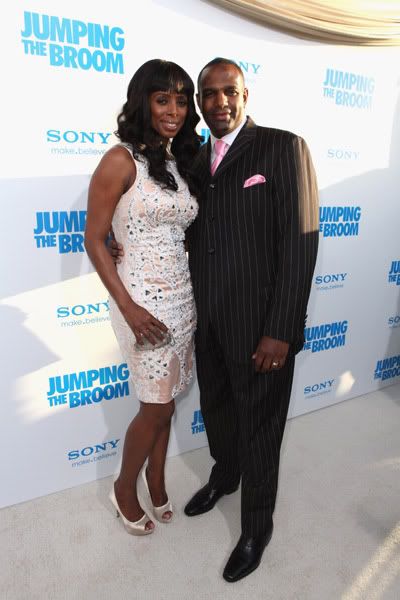 Tasha looked great and brought her new HUSBAND along--yes, she got married.
Actress Tamala Jones rocked her usual little black dress look.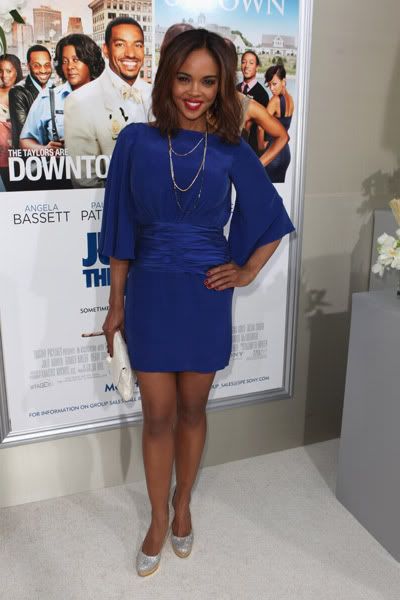 Very cute look for actress Sharon Leal.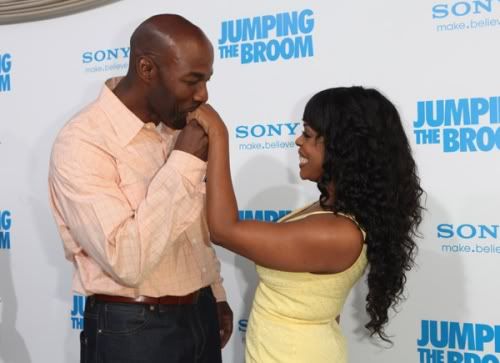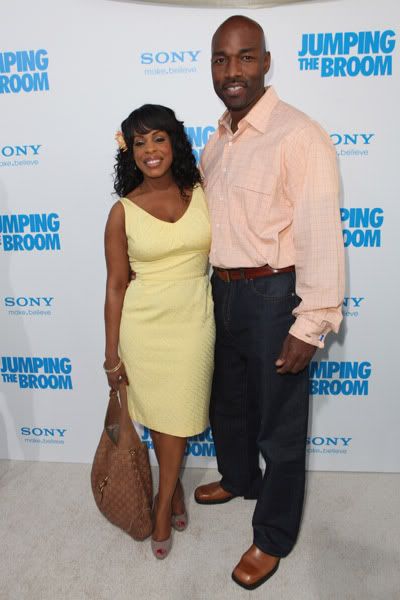 Neicy Nash came out to support the cast with her fiance. They're getting married this month!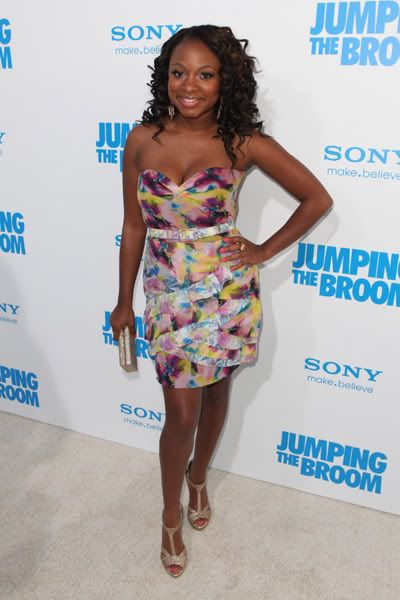 And actress Naturi Naughton worked out this multi-colored spring strapless dress. Cute.
Fab times all around. Jumping The Broom hits theaters TOMORROW!