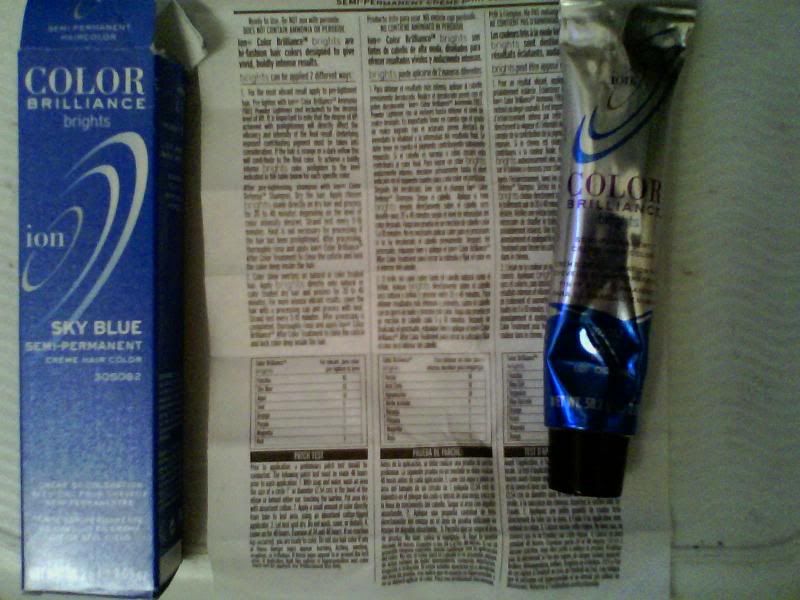 The directions are in English, Spanish and French, not tested on animals, formulated in Italy and made in Mexico. The tube is 2.05oz and has lines on the side to mark 1/4,1/2, and 3/4 of a tube much like all pro creme haircolor.
Ingredients- Water, Cetearyl Alcohol, Stearyl Alcohol, Propelyne Glycol, Ceteareth-50, Lauryl Alcohol, PEG-40, Hydrogenated Castor Oil, Dimethicone PEG-8 Meadowfoamate, Myristyl Alcohol, Cocamidopropyl Betaine, Fragrance, HC Blue No. 15, Lialool, Geraniol, Citronellol, Alpha-Isomethyl Ionone, Lactic Acid, Methylchloroisothiazolinone, Methylisothiazolinone.
WARNINGS-
"DO NOT USE WITH PEROXIDE"
(developer). I love how they made sure to put this on the box, but not on the tube of color itself
.
"This product is not intended for use on persons under the age of 16." I have a feeling some SALLLY's might be carding people for this.
"Temporary "black henna tattoos" may increase your risk of allergy. Do not color your hair IF you have a rash on your face or sensitive, irritated and damaged scalp, you have ever experienced any reaction after coloring your hair, you experienced any reaction to a temporary "black henna tattoo" in the past."
There's no such thing as black henna; they're actually talking about PPD found in henna based dyes like Bigen, Paon, Black Rose and a lot of box dyes in dark shades...black contains the most PPD. Real tattoos can cause sensitivity and allergic realtion to hair dye so a patch test is highly recommended. The henna skin art (not tatoos) allergie come form people sing the Henna based PPD hair dye on the skin and there's numerous cases of severe reactions, swelling and scarring....not fun.
Usage tips. Squeeze the tube starting form the end into a tint bowl, stir and apply with a tint brush to DRY hair that as been pre lightened. Apply a plastic cap and process with heat for better saturationa nd results.


Edited by RedSoxtober - Mar 18 2013 at 6:18pm