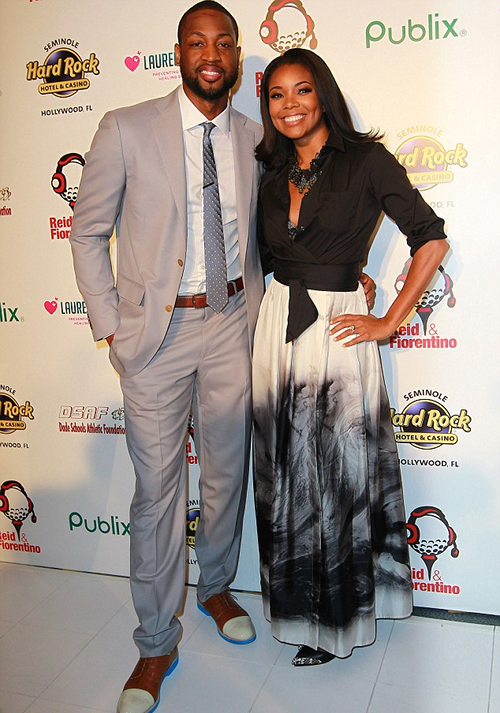 Gabrielle Union and Dwyane Wade attended an award ceremony for LeBron James then snuck out to their own engagement party. Check out the pics and deets inside…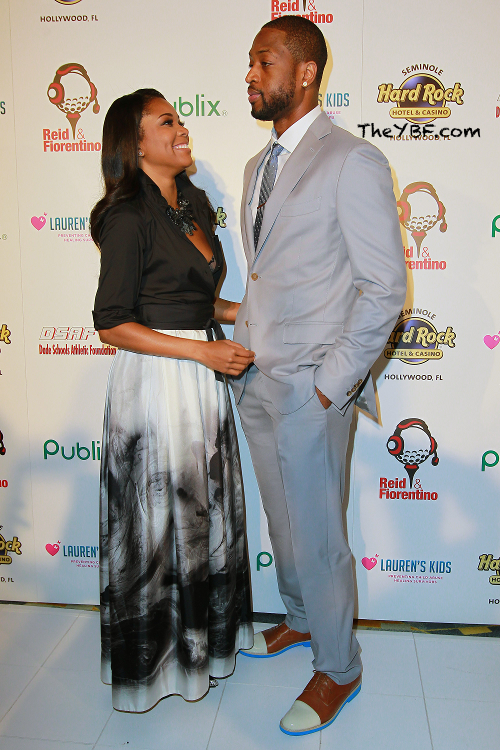 Gabrielle Union and Dwyane Wade attended The Annual Reid and Fiorentino Call of The Game dinner at the Seminole Hard Rock Hotel and Casino hosted by Gabby.
Dwyane had on a gray Ferragamo suit while Gabby wore a smoke print Sara Roka exclusive gown and EK Thongprasert statement necklace.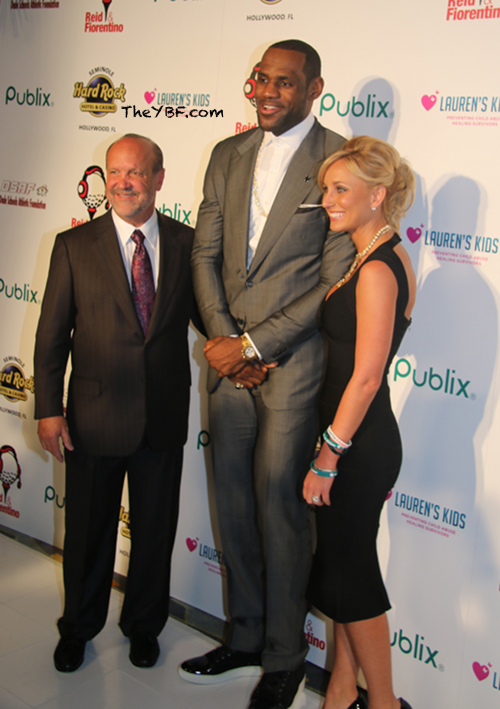 D. Wade's teammate LeBron James (pictured above with Florida attorney Ron Book and his daughter Lauren Book) was being honored the Don Shula Sports Legend Award during a dinner awarded by the Miami Dolphins' legendary coach Don Shula.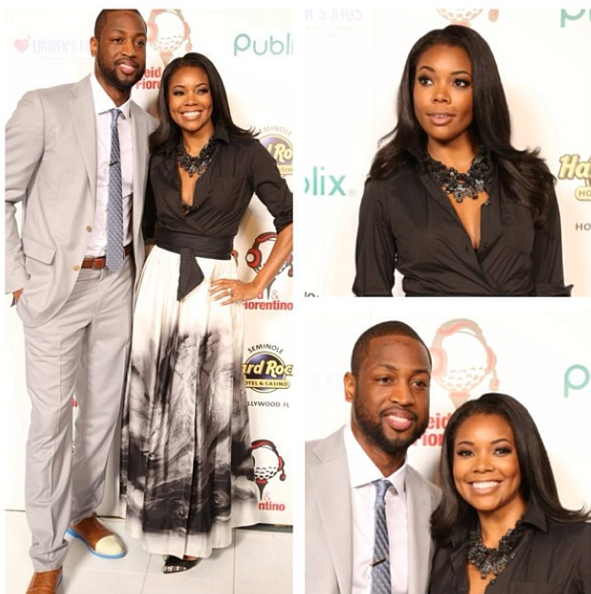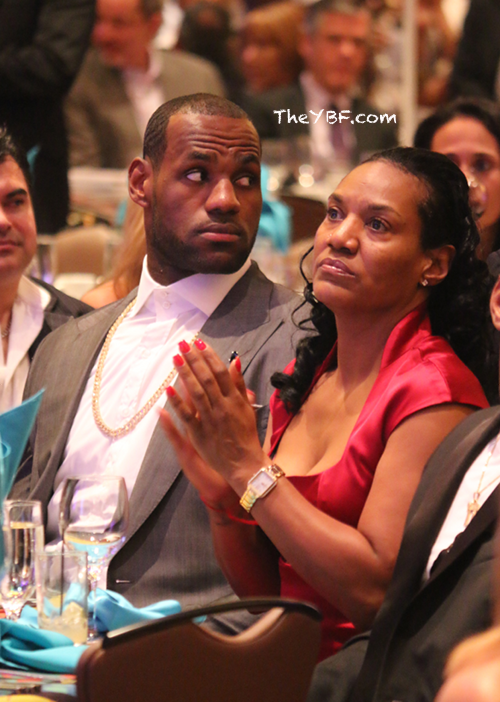 LeBron sat next to his mother, Gloria James, during his dinner ceremony. We told you last week his wife Savannah is almost 4 months pregnant expecting baby #3, which would explain why she wasn't present for the dinner honoring her husband.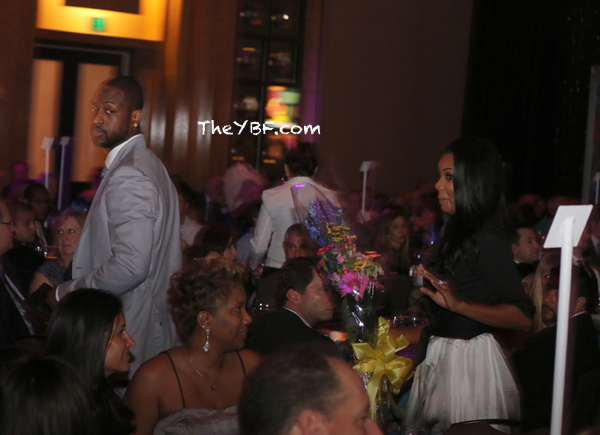 And Gabby & D. Wade were busted as they tried to sneak out of the event, missing Lebron's award ceremony.
And they were in a hurry to leave because…
They had an engagement party to get to!
Although Gabrielle Union and Dwyane Wade got engaged back in December, the couple hosted their engagement party at Pearl at Nikki Beach in Miami on Saturday. They were surrounded by family and friends including Kelly Rowland, Kevin Hart & Jamie Foxx.
The "Being Mary Jane" star's parents were also in attendance. She shared on Instagram:
"You know it's a good time when Pops is turnt is the club... #pearlchampagnelounge#ohmyleg#noYOUtellmydadhesbeencutofffrombottleservice."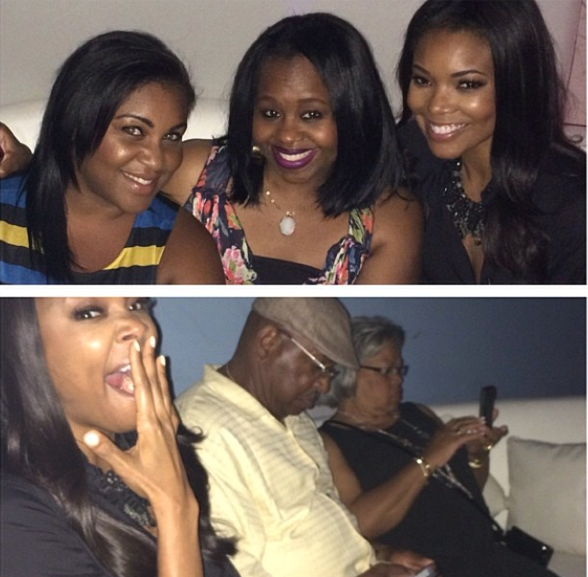 She posted this funny picture above of her parents glued to their cell phones saying:
While me @telltell_heart @dauniedaune were busy havin fun... Those youngins were very busy chile on their phones #settinuplatenightmoveswithoutthekids

Ha! Still no word on an official date for their actual wedding.
Now it's back to the grind as D. Wade and the Miami Heat head to the Quicken Loans Arena in Cleveland, Ohio (LeBron James' hometown) tomorrow in a game against the Cleveland Cavaliers.
BONUS:
Gabrielle Union is set to star in Chris Rock's upcoming film "Finally Famous," which Chris wrote and will be directing.
Gabby landed the female lead role and will play Chris Rock's popular reality TV star fiancée. Gabby's role will be trying to convince Chris' character to have their wedding filmed on her reality TV show. Chris plays a comedian (how fitting) who wants to be taken seriously as a professional actor.
Rosario Dawson also landed a role as a journalist who ends up falling for Chris Rock's character.

Photos: Charlie Ans /Splash News /Gabrielle Union's IG