Krazygirl, is that you Martha?
LOL. No, I'm just kidding.
But seriously, your argument is very similar to Martha's.
For one, I got rude with Ms. Gordon because after she received my money, whenever I asked her a question, all of sudden she took forever to answer. If you go back & see, when I was originally talking to her about the hair prior to me purchasing, she gave me long answers & replied within hours/minutes to my questions. Once she received my money, I had to start badgering her for answers.That's where I lost my patience. If you go back & look at my messages;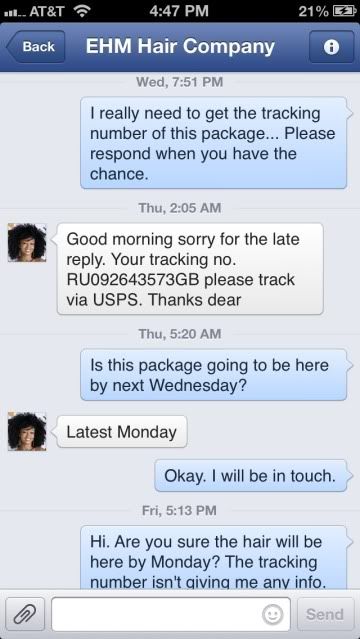 She said she would get back to me... & she didn't. I had to message her three times to get an answer. All the while I'm sending her messages, she's posting pictures on IG of food. THAT'S why I was upset & rather 'rude' to her. As a business owner, I think it would've been her first thing to do, since I expressed to her how important it was I received my hair by that Wednesday.
You say you live in Canada & you expect things to taking weeks to arrive, I understand that. But I was living in the states. I ordered my hair on the 31 & didn't receive it until the 14. If it was going to take any thing longer than two weeks, Martha should've told me. I'm sure this isn't the first time something like this has happened. I asked her multiple times when the package would arrive & she told me that Monday. Granted she had no control over the mail, BUT she should've told me that from the beginning. That's all I asked. Had I known it was going to take this long, I would've definitely gone to Aliexpress or an AV. I've ordered plenty of hair time & time again & never had to wait longer than a week.. Ever. As long as I was stationed in Missouri.. & I've ordered things from across the world, to include Germany.
Yes, I made a mistake in seeing the date wrong. That was my bad & I admitted that. & once I received the hair, like I said, I was going to let bygones be bygone & actually erase my comments I made about her because at the time, the hair
was
beautiful. It wasn't until she messaged me back saying check the package to see when it was mailed where she rubbed me the wrong way. Not only that, but she had me check the package only to see that it wasn't even mailed on the fifth like she claimed. & when I brought that to her attention, she still wanted to argue saying 'well it wasn't mailed on the eighth like you said.' REGARDLESS, it wasn't mailed on the fifth either.
& the fact she lied about ONE day, who's to say when it was mailed? Had she been truthful from the beginning saying that she mailed it on Tuesday, I wouldn't have to question anything she said. But she wasn't.
Krazygirl, I don't want to argue & I really hope my post isn't coming off rude. But I've never had to deal with this when dealing with a vendor. Ever. If I was initially rude to Martha, it was because of my frustration with dealing with her...
Anyways, the install pics are posted downstairs, KG. After wearing the hair for a week now, it's been dry & tangling like no one's business. I've been doing deep conditions & everything, trying to keep it moisturize but it's not working.. After clarifying & deep conditioning yesterday, the ends knotted up real bad & this is what I had left --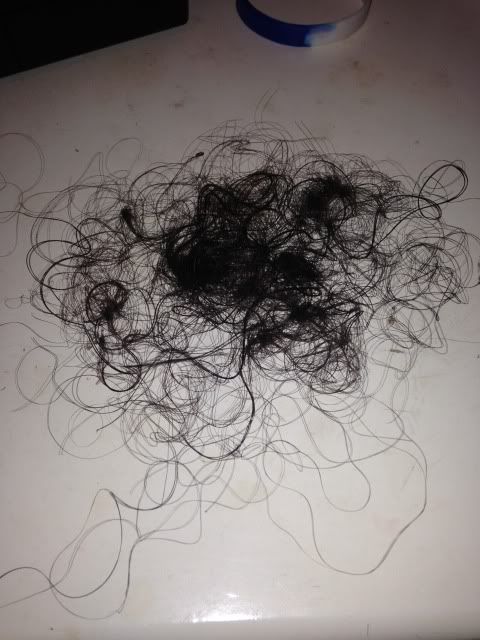 I'm going to trim the ends, because they are extremely dry & that seems to be where the tangling & knotting is coming from. Hopefully that'll help. Any advice would be appreciated too.