ok so i was trying to find my original entry to quote but either i did not make one or i just cant find it. well i am back from jamaica. had a lovely time but now its time to make wsl and now that im 2-3 inches behind because of a well needed trim im def on the grind now.
post your starting photo
and fotki: see siggy
- post your starting length and expected WL date:BSB 12/31/13/12:59pm (lol i need every minute.)
- post your hair status (relaxed, transitioning or natural) - NATURAL
- post your DETAILED regimen (include your vitamins and growth aids)
co-wash bi-weekly with or giovanni's condish.or dC mixture.
virgin coconut oil to seal
DC 2x a month...with organics replenishing condish mix with jbco and avocado oils or Ors mayo with wheat germ oil....
daily moisturizer: giovanni's condish & water mixture
twist outs with my pure shea butter mix with olive oil
molasses treatment as desired
shampoo: giovanni's shampoo
avocado hair mask: as needed...
15-30 min scalp massages at least 5 days a wk.
lots of water
growth practices? protective styles 90% of the time, sulfur oil mix to scalp at least 3x a week
STARTING PHOTO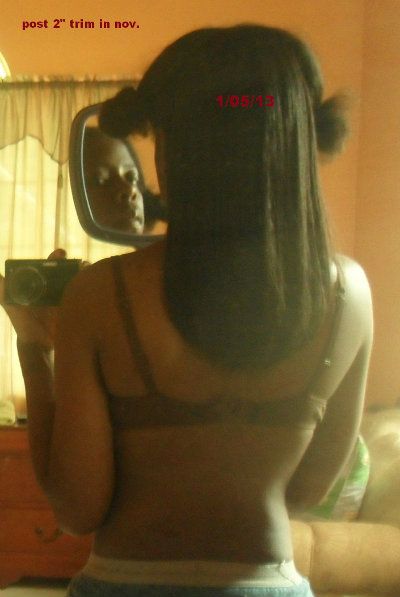 Edited by naynay455 - Jan 17 2013 at 7:26pm