I havent actually watched DC in a minute, so I only have a small working memory of each episode. I'd have to watch the seasons again to see what I missed. But from what I remember, my fav 20 moments/scenes are as follows:
20. Joeys Scary Story
Season 5
http://www.youtube.com/watch?v=jx0XD4SDx9I&feature=PlayList&p=AB34FF1FBC34AE30&index=49
Some call it "filler", but some of my favorite episodes were the ones where they took a step back from the storyline and made a mini-movie. Joey's story in
Four Scary Stories
was pretty entertaining. Predictable sure, but entertaining none-the-less.
19. Joey's brutal singing
Season 1
http://www.youtube.com/watch?v=knpRITAQJRA&feature=related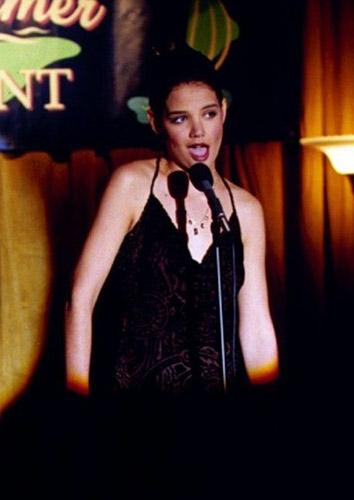 Her voice, ugh. But you know what, it was a momentous moment of that season and in the progression of the Joey and Dawson love story. Everyone in the room had to know who she was singing to.
18. Mitch Dies
Season 5
http://www.youtube.com/watch?v=OQv-0Ojn73w&feature=related
I guess the writers felt they needed a change of pace so they killed off Mitch. I personally liked Mitch over Gale, but hey. His death and the episode that followed was a change in overall tone in the series. There had been deaths before, but this one saw much more maturity in most of the characters, specifically Dawson. He changed for the better after this moment.
17. The Entire Appetite for Destruction episode
Season 5
http://www.youtube.com/watch?v=HPBrQUe4s9w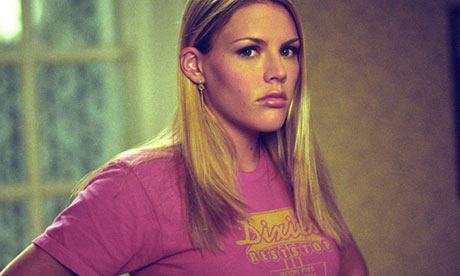 Audrey was hilarious in this episode. And it was fun to finally see the gang get back together for some old fashion melodrama. I dont know if anyone thought it was actually going to last, but at the very least it brought up some dialogue about feelings that was desperately needed. Fans were missing that sophisticated banter about love and teenage angst.
16. Dawson/Jen...finally Dawson...you are a man.
Season 5
http://www.youtube.com/watch?v=4O9eMgwKLy8&feature=related
He finally taped it. He finally got some period. The build up to it was nice, nothing as powerful as other on-screen first times, but I liked it.
15. Pacey lambastes Joey
Season 4
http://www.youtube.com/watch?v=ymjUtpgZJZs&feature=related
(0:07-2:14)
It was a longtime coming. And when Pacey popped, boy did he pop. Joey stans will forever hate the scene, but as someone who could identify with Pacey, it was one of the most emotionally charged scenes in the series. Joshua, the guy who plays Pacey, hit his role out of the park here (He was always the best actor on the show).
14. Dawsons Creek Meets Scream
Season 1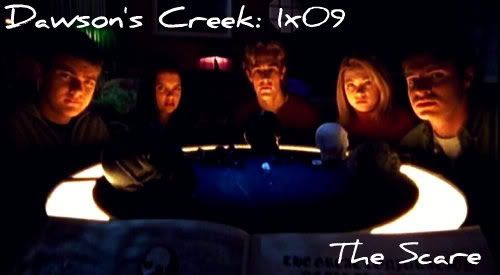 Only because it was the episode that got me into Dawsons Creek. The writer of Dawsons Creek actually wrote the movie
Scream
, which explains his tendency for teenagers that speak in tongue-twisted pop culture lingo. This was actually pretty scary the first time I saw it.
13. Dawson Oh Dawon...the ugliest cry face in history
Season 3
http://www.youtube.com/watch?v=eaYyK63YSS0&feature=related
(4:18-5:04)
Joey was choosing Pacey, and Dawson was going to make a complete idiot of himself in trying to cope. Dawson was a complete wimp throughout the ladder part of season 3, but this scene immortalized him and his whining. It was no longer Dawsons Creek, it was Joey's Creek.
12. Dawson and Joey's last night in Capeside
Season 4
http://www.youtube.com/watch?v=ZYnQfaDFLHQ
It really started when Dawson has a fight with his dad about how he will spend his last night before going off to college, but culminated in the only way he could have possibly spend his last night in Capeside. Joey and Dawson in that bedroom, one last time. Their last conversation was bold, extra open (for the first time in a long time), and maybe the only time I really wanted Joey and Dawson to get together. Poignant last conversation as they return to their relationship roots.
11. Truth or Dare in the Library
Season 1
http://www.youtube.com/watch?v=PjFRlnoUPIQ&feature=related
The Breakfast Club parody broke the ice for many of the characters. And was surprisingly one of the most sexually charged episodes in the series. If you watched this episode, you would have sworn every character would be f*cking by season 2. Turns out they had a little more will power than I thought.
10. Gale tells her husband that she Cheated
Season 1
http://www.youtube.com/watch?v=oGjlKo3oDK8
(5:22-7:36)
And boy did she lay it on thick. I really hated her after this episode. Not because she cheated, but because she could not give a reason for why she did it. It made me afraid of if women really did cheat like that. Young teens like myself at the time should not have to wonder about such things.
9. Dawson Runs After Joey
Season 1
Finale
Why does Youtube not have this? Joey goes to see her pops in prison, comes back to tell Dawson her feelings. Dawson and Jen are hugged up in his bed (although Dawson does not even want Jen there). Joey goes off running, making her the slowest person in the world. Dawson catches her, they kiss, Season 1 ends in the teen glory like we knew it all would.
8. Joey Loses Her Virginity
Season 4
http://www.youtube.com/watch?v=y0PGKJkV2to&feature=related
(2:50-6:15)
After 9 months of dating Pacey, and 16 years of fate with Dawson, Joey switches her destiny and gives her virginity to Pacey. I thought Joey was being a b*tch throughout the episode, but I guess she made up for it by finally seeing that at the end of the day, sex can be a good thing. She also had a nice little throwback to some words that Pacey spoke to hear a year prior. I think its hilarious that the next morning was full of fail, though. She didnt cum, he felt inadequate, and then she lies to Dawson about it. Poetic Justice.
7. Pacey and Jen's Sex Pact
Season 3
http://www.youtube.com/watch?v=ni_c0ASGwOQ&feature=related
(3:35-5:27)
http://www.youtube.com/watch?v=qRYxrDiS53E
(0:00-2:19)
It was cute, witty, and so worked with the personalities of the two characters. Setting up the friends with benefits thing caught me completely off guard, and the failed execution of it was comic relief gold. No wonder Parents watchdog groups said this was the worst teen show on TV. They actually were depicting jumpoffs. I love it.
6. Joey/Pacey get stuck in K-Mart
Season 6
http://www.youtube.com/watch?v=tDVteQEARBk&feature=related
(3:40-7:55)
It was needed for a flatlining series. Both characters got out some things they needed to get out, and provided a defining moment for the on-off-again couple. On another note, none of the K-Marts I have seen look anything like that.
5. Joey Visits Her Father in Prison
Season 1
Finale
Youtubers failing yet again. But this was a moment that made Joey make some tough decisions in her young life. The low of the scene was foreshadowing to the buoyancy that was to come later on in the season finale.
4. The second kiss of Pacey/Joey
Season 3
http://www.youtube.com/watch?v=27K1C8dJ788
(1:51-2:57)
I like how on Dawsons Creek, kisses have life-changing symbolism and implications
. The first kiss may not be remembered as much, since it was not reciprocated by Joey, but what some see as the real "first kiss" was the moment Dawsons Creek changed its tune and focus.
3. The Third kiss of Joey/Pacey
Season 3
http://www.youtube.com/watch?v=HvlzuNVsrT4
(7:21-9:49)
Ok, the second kiss was pretty good, but the third times the charm. It was only made better because they got caught. Getting caught doing something you aren't suppose to be doing always makes everything more intense.
2. Dawson Finds out About Joey/Pacey
Season 3
http://www.youtube.com/watch?v=Jxr6wmbU8yg&feature=related
(0:35-6:46)
Maybe the most memorable episode and scene of Dawsons Creek. It definitely is one of my favorites. Dawson finds out his best friend, and his soul mate, have been secretly messing around behind his back. You can't write TV that is much better than that. Dawson freaked!
1. But Of course...Joey picks Pacey
Series Finale
http://www.youtube.com/watch?v=ZV5AoGlZEBE
(4:30-5:50)
What else could be number 1? I'm not a fan of Season 6, but the series finale was about as well done as I could have reasonably have hoped. From the montages to the final scene, it was a tastefully done ending.