There's been a shooting at Sandy Hook Elementary School in Newtown, Connecticut
The shooter is now dead; witness tells CNN that two adults were killed
Below are the latest updates as they come to us
[Updated at 12:20 p.m. ET] A third-grader describes the shooting to WTNH:
< ="application/x-shockwave-flash" id="cvp_1" name="cvp_1" ="http://i.cdn.turner.com/cnn/.element/apps/cvp/3.0/swf/cnn_416x234_.swf" width="416" height="374" style="padding: 0px; margin: 0px; border: 0px; font-style: inherit; font-family: inherit; vertical-align: line;">
[Updated at 12:16 p.m. ET] Two adults were killed, according to a parent who was at the school during the incident, and who talked to our colleague Meredith Artley.
[Updated at 12:12 p.m. ET] We just got this from U.S. Senator-elect Chris Murphy:
"I am shocked and saddened by the horrific news from Sandy Hook Elementary School this morning, and I pray that kids, teachers, staff, and families reach safety as quickly as possible. While we don't have much information right now, our thoughts are with the victims and their loved ones."
[Updated at 12:05 p.m. ET] The shooter's body is in a classroom, a source with knowledge of the investigation tells CNN's Susan Candiotti.
[Updated at 12:02 p.m. ET] Multiple local media are reporting there are fatalities. We're checking.
[Updated at noon ET] News Times reporter Libor Jany reports that all Newtown schools are on lockdown.
[Updated at 11:58 a.m. ET] Danbury Hospital confirms it's treating some victims. It says this on its Facebook page:
To date, three patients have been transported to Danbury Hospital from the scene. Out of abundance of caution and not because of any direct threat Danbury Hospital is under lockdown. This allows us simply to focus on the important work at hand.
[Updated at 11:54 a.m. ET] Connecticut House Rep. John Frey has nieces and a nephew at the school and is tweeting updates.
[Updated at 11:40 a.m. ET] We're getting live pictures from the scene from CNN affiliates.
[Updated at 11:34 a.m. ET] The shooter is dead, a source with knowledge of the investigation, tells CNN's Susan Candiotti.
Police have recovered two weapons from him, the source added.
It's not known whether police killed the alleged shooter or he took his own life. The source says one weapon recovered is a Glock and the other is a Sig Sauer.
[Updated at 11:27 a.m. ET] The Hartford Courant, citing police, said an unspecified number of people had been shot. The nature of their injuries was unclear, the newspaper said. But it cited police in saying one person had "numerous gunshot wounds."
[Updated at 11:19 a.m. ET] Affiliate WTNH says children are being taken to a nearby firehouse.
[Updated at 11:10 a.m. ET] Details are still really sketchy, but we now have a photo from the Newtown Bee of children being led from the scene.
[Updated at 11:03 a.m. ET] We're still getting details in of how many people may have been hurt.
Newtown is southwest of Hartford: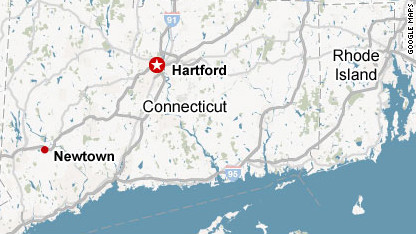 [Updated at 10:53 a.m. ET] Sandy Hook school is on lockdown and students are not being evacuated, a Newtown police spokesman tells us.
[Posted at 10:30 a.m. ET] Breaking news coming in - Connecticut State Police are responding to reports of a shooting at a Newtown elementary school in southwestern Connecticut, according to police spokesman Lt. Paul Vance.
We'll bring you more details as soon as we get them.
Our affiliates in the area are saying the school is the Sandy Hook Elementary School.
WTNH says all schools in the area are on lockdown. WFSB added that afternoon kindergarten was being canceled.