Do it. I'm a 0g. From the vast expanse of jewelry you can choose from to scaring the sh*t out of people, it's endless fun .
Gkisses wrote:
Piercing Charts

Do NOT, I repeat, do NOT go into a reputable studio and refer to the placement of ANY piercing as an animal, mythological creature, or plant "bite." If you walk up to me and say you just got ______ bite(s) done, I will advise your ass to get to an emergency room asap for a rabies shot and some common sense. Calling piercings these lame ass names does nothing but confuse people. Most piercings are named after their anatomical location. When you go in to a shop or studio to get your lip pierced, say you would like.... are you ready for this? dun, dun, dunnnnnn: A LIP PIERCING! So simple right?! Then specify the location and placement.
More specifically, all piercings surrounding the lips are labrets. The exceptions to this rule are the vertical philtrum, medusa (which is actually called a philtrum), and dahlias.
DWeird wrote:

I love piercings and implants
Microdermal projects are like drugs. Sure they look cool and fun, but will really fvck with your life. Just say no kids.
DWeird wrote:

Omg this reminds me I had an ex booty partner who had lil heart shaped dack pearls? I dunno what you call them. The feeling was
Genital beading/ implants.
HeyBeautiful18 wrote:

pierced nipples makes them more sensitive?
It is honestly a toss up. For just as may people who speak their praises of sensitivity after piercing their nipples, an equal amount complain of a decrease or complete sensation loss.
If you care to find which group you are in, pierce one for experimentation purposes first.
HeyBeautiful18 wrote:

lol i didnt think about that so im not sure. im sure i wont be having kids for awhile...so when i decide to ill probably take them out

but i think i did hear that you can still breastfeed with them. im not sure though

You can still breastfeed if you have had your nipples pierced. You will most likely experience increased milk flow.
Eden. wrote:

I wants nip piercings but what are the cons?

If I start breast feeding will the milk squirt out of the two holes on the side?
PROS:
increased sensitivity
aesthetic
CONS:
decreased sensitivity
scarring
long initial healing period
I personally have never lactated, but know numerous women with pierced nips who have. A handful had their piercings close during pregnancy, others reported "leaking" through the additional holes.
nycdiva357 wrote:

um those w/ nip rings...
are ur bars curved or straight...
and does it matter---when you are trying to change from one type to the other?

Mine are straight barbells, but my nipples are pierced vertically which makes them the only practical choice.
Curved barbells are not suitable for nipple piercings but may occasionally be used to alleviate pressure in the case that the client's nipples are inverted or is large breasted.
No jewelry should be used for initial piercing and healing other than straight barbells of a length suited to the client's anatomy, regardless of horizontal or vertical orientation.
You may experience slight discomfort changing from one style of jewelry to another based on:
1. Quality of the jewelry:
a) External vs internal threading: internal is more expensive but better for your piercing. Despite this, externally threaded jewelry may be worn in VERY well healed piercings. Some internally threaded jewelry is still economy jewelry. This will be reflected by its polish. See below.
b)Polish: Good jewelry should have mirror like polish. In addition to reflecting the pores on your face, it will also reflect its quality in price. Do not be fooled by shops that mark .50 economy jewelry up as 30+ dollars. Ask/ look for premium brands like anatometal, industrial strength, lei roi, neometal, or body circle designs.
2. Shape and weight:
a) Shape: if you healed with straight jewelry, your nipples may not like captive bead rings or horse shoes (the proper name for this is a circular barbell) and vice versa.
b) Weight: this applies mostly to nipple shields. They are for temporary wear only and WILL become uncomfortable over time.
3. Whether or not your piercing is healed. Nipples can take from 6 months to 1+ years to heal fully.
marumaruyobi wrote:
Eden. wrote:

I wants nip piercings but what are the cons?

If I start breast feeding will the milk squirt out of the two holes on the side?
No it won't but they recommend you take the jewelry out before you do it so the risk of something coming off and your baby swallowing/choking isn't there.
MISCONCEPTION
When breastfeeding jewelry should be removed to prevent choking/swallowing hazards. You may reinsert jewelry after feeding, but chances are your nipples will already be angry from it. I always suggest people remove the piercings and repierce after you are no longer feeding. There is also the chance the holes may be tapered open.
AmyAmyAmy wrote:

double vertical lip piercings....do they heal completely if you decide to stop wearing it?

don't want a hole in my lips lol
If you are not okay with possibly having a hole in your face forever, do not get pierced. A piercing that is healed will never close. It may shrink to a not readily noticeable size, but will remain there.
If your piercing closes after jewelry has been removed, it was not healed. Any and all piercings will leave a scar. How bad it is depends on your skin's likely hood to do so and how the piercing was treated/acted while healing.
Gkisses wrote:

All oral piercings heal fast once rings are removed. If ur worried about any scaring id suggest using some of those creams for minor cuts and bruises that reduce scaring.(sorry on my phone)
MISCONCEPTION.
Gkisses wrote:
Eden. wrote:

it's cute.

will it stay like that forever?
Yeah it will heal like that leaving the shape of a heart...

No. It staying open depends on the person healing it. They are either stitched along the perimeter or appropriate shaped jewelry is inserted. Some people heal conch punches naked (without jewelry) but they can shrink or close.
nycdiva357 wrote:

gkisses bring ur butt back here..lol

please explain this punch thing..
not that i want one but i haz a confusion.

was the metal hot..or was it just sharp.

i literally got goosebumps looking at those pics

Punches are quite simple. Think of them as a human cookie cutter.
Marmonette wrote:

Cool Dermals
Please do not refer to microdermals (which is not what this are) as dermals. Dermal means skin. These are transdermals, a much more risky modification.
Gkisses wrote:
About Dermal Piercings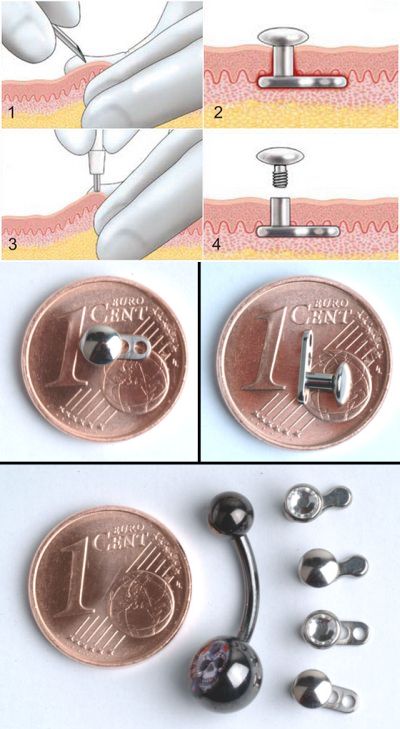 A needle (run from anyone who uses anything other than a 14g or 12g sterile needle for this) is used to pocket a hole the appropriate size for the microdermal's base/foot.
The
foot
is just placed under your skin, and the
post
sits vertically through the skin of your body but only attachment is the visible
to the naked eye. This is called a microdermal anchor.
We must remember one thing that we should remove this piercing our self, it can be very risky we must go for surgically removing process by any professionals that would be safe
.
Microdermals almost never have to be surgically removed. That would only happen if your modification artist was unable to remove it for what ever reason, and it would be scalpelled out. In most cases of removal, the dermal has begun to reject and or is already not sitting properly. In such a case, the post will be grabbed with the appropriate type of forcep, and the foot will be wiggled out of your body. A needle is sometimes used to aid in the process. Microdermals may sometimes be removed at home if they are shallow enough, but this is not recommended.Dermal anchor
piercings should be made in the certain parts of the human body where generally the tissue will securely anchor the piercing successfully.
The entire procedure of dermal implants may not take more than
1 hour
a few seconds (if it takes longer than a minute per microdermal, your mod artist is not properly trained in doing them)
.
Yet it is one of the fastest skin healing as compared to traditional piercing. They heal the skin within 7 to 15 days but this to may vary.
Depending on the location, microdermals take 2-4 months to heal fully and be considerably harder to heal than traditional piercings.
Piercing Aftercare
After Dermal Piercing care is needed to protect the perforated region. The area needs to be cleaned on a daily basis to prevent infection and other health complications.
Add 1/4 tsp salt to 8 oz of filtered water. Microwave until it is intensely warm but not uncomfortable. Moisten a cotton ball with this solution and hold it to the affected area, then remove any moistened "crusties". Rinse after doing this "SeaSalt Soak" commonly referred to as SSS. Be sure no fibers of cotton are stuck to your piercing. Throw the cotton pad away and use a fresh one. Do this for 4-5 minutes and allow it to air-dry. The cleaning should preferably be done twice daily. Salt water cleans a just injured area and prevents any cases of infection.
Make sure that you always wash your hands properly before touching the region. Dirt and germ can cause irritation and give rise to infection in the area.
It is also important to use a mild soap while bathing. A strong soap can be irritating to the just injured skin region.
You should also follow a healthy diet to aid the healing process. Make sure that all essential ingredients are supplied to your body. This will boost your immune system and keep you away from health complications.
Does Dermal Piercing Hurt?
Dermal Piercing can be painful as the process involves making a deep hole onto the skin surface. Any kind of skin trauma without anesthesia can result in pain. Dermal Piercing pain depends on your threshold for pain. You should go for this body art only if you can bear pain. Pain also persists for about 1-2 weeks after perforation. This is exactly the reason why it is often called a 'painful pleasure'.
Any piercing anywhere will hurt to some degree unless you have no nerve endings or anesthetic (which is illegal and not recommended regardless)is used. Pocketing and insertion will hurt briefly, but are a short part of the piercing process. The piercing will obviously hurt if you repeatedly pull, bite, bump, scratch, poke, incur random acts of god upon it, (god dammit, just don't touch it), before it is healed. Even then you should try not to do these things as it can encourage rejection or migration.
Dermal Piercing Infection
Following a Dermal Piercing session a piercer may get an infection due to various reasons. Touching the just perforated area with unclean hands may pass on the germ to the region and result in a bacterial infection. An unsterilized needle can also be a cause of infection in the area.
In case of an infection, the pierced area gets inflamed. The surrounding region may become very sensitive. A pus filled abscess can arise in the area. The area can also become red. Infection is one of the greatest Dermal Piercing risks. SEEK THE HELP OF YOUR ARTIST OR A PROFESSIONAL IMMEDIATELY IF YOU SUSPECT YOUR MICRODERMAL IS INFECTED. AS A SINGLE POINT PIERCING, THE INFECTION HAS NO WHERE TO TRAVEL BUT INTERNALLY.
Dermal Piercing Healing
After Dermal Piercing, the perforated area may heal in a few weeks. In some people, it may take a longer period of recovery. In normal cases not involving infection, tissue healing can occur within 2-4 MONTHS.
Dermal Piercing Scars
Following a surgical removal of Dermal Piercing jewelry, there may be scarring in the area. The wound however, heals properly. If you are not content with your Dermal Piercing jewellery and want to remove it after a time period, be prepared to carry a scar.
I was too lazy to correct dermal to microdermal everywhere in this post, but yeah... MICRODERMALS YOU GUYS!!!
Marmonette wrote:
spiffysabrina wrote:
Marmonette wrote:

Now you have me confused
This piercing is called a triple forward helix. It is three seperate piercings that are pierced through the cartilage. The picture below might be better to show exactly what is pierced.
The first picture is of a triple forward helix. The second is a monstrosity. While it does illustrate how the piercing is done, the jewelry is too long, probably of low quality, and was clearly done by a hack.
Marmonette wrote:
spiffysabrina wrote:





Thanks Hun!
So I have to walk around like that while it heals?
Yep! NO. See aforementioned post.
While some piercing artist may say it is okay to take the jewelry out in 4 weeks to change it to something prettier, I would advise you strongly not to do that. Cartilage piercings take a longer time to heal than most piercings. I would suggest waiting 4-6 months before switching jewelry.
Also, It is possible to not have to use that exact jewelry. Some piercers may have labret studs of an appropriate length for the client's anatomy put in instead. They are more suited a bit cuter than the curved barbells in the other picture.
That said, a triple forward helix may also be pierced with straight or curved barbells of an appropriate length.
Gkisses wrote:
marumaruyobi wrote:
Gkisses wrote:
Omg!! thats so hot!
Why the removal? Rejecting? I love that
Thanks
The piercer said girls with bigger boobs have higher rejection rates with anchors near the cleavage for some reason. It just wouldn't stay in
Damn but good to know.. I love that.... I got both my nips done at the same time... never really considered just getting 1.

Dem tiddays come with a price ladies. Take off your shirt and bra, then do some jumping jacks while staring at your sternum in the mirror. Notice that sh*t be jumpin'? Rejection is higher in clients with big breasts because there is more movement in the area than ladies whose tits don't touch.
Gkisses wrote:
Lilnicka4u2nv wrote:

Ladies with vojuju piercings...when come wax time , how do you deal? do you have to take it off?




Anyone here has a Christina?




Pic (NSFW)




What was the pain level? Healing time?
The Christina is one of the vajj piercings ive considered....I like the overall look of it. The closest Ive gotten was actually going, signing the wavers with my friend waiting til she got hers and backed out
Total Bish move I know but I wasnt ready...She got her clitterhood done so Im sure the pain is different. She loves the thing tho 2 weeks after she got it done she couldnt stop talking about how she couldnt walk right without feeling......titillated
She healed in about a month month and a half so Im assuming the Xtina would be faster.
Good question about the waxing...Im not sure how that would work for a new piercing (should probably be freshly done prior) but once its healed u can remove it for that and then replace it after wards.
When I wax, all vaginal piercings come out. Consequences have taught me that. TRUST.
I have had a christina 3 times.
Nicka, it is anatomy dependent (you need a defined ridge where your outer labia meet) and even then, still very finicky. I cannot tell you the accurate pain level because it was the last piercing done in a session of 3 (in order done: nipple repierced, microdermal above christina, then christina), so my tolerance and adrenaline were low. They take anywhere from 4 months to 1+ year to heal. Mine never did. They all slowly rejected until I removed them.
The clitoral hood is made up of the same type of thin pliable skin the inner labia are, and is quick healing. Hood piercings and inner labia piercings heal in 1-4 months. Christina's go through much more and thicker tissue. It hurts a hell of a lot more and will take a hell of a lot longer to heal. That said, you can have sex with a hood piercing the same day you get it if you avoid ball slapping positions and touching it.
AffirmativeBunny wrote:

Saw this on Tumblr
Photoshop.
Babydoll9163 wrote:
Rumbera wrote:

I don't get the ear lobe stretching.

m

Me neither. It returns after they take the gauges out right? I hope so at least.

Spine tats are smexy. I'm sure they hurt like hell though.

~Ear Lobe Stretching Finally Debunked!!!
In order of likelihood:
Personal aesthetic
Cultural
Stretched lobes closing depend on how you stretch (properly/improperly), size, and the individual's body itself.
I know people at an 1" and higher who have been able to shrink there ears to 0g-4g and others who needed surgical intervention to close 0g holes. Stretching should be seen as a permanent modification only reversible by surgical intervention. That said, there are gonna be tons of people who are in for a rude awakening in the next few years and just as many who are happy with the choices they've made.
Marmonette wrote:

This is my piercer. His name is Pineapple. Notice the itty bitty bridge piercing.
Lucky! Not everyone has access to such a highly skilled professional with great taste in jewelry!
Gkisses wrote:
Scarification
(Imo...it seems like these are best when they are med-large and simple.
While the detail looks amazing right after its done, once its healed the detail seems to fade
and ppl have been blotches)
MISCONCEPTION
There are numerous kinds of scarification. The word itself means simply creating a scar. Different methods yield different result. Healing plays an additionally large role. Scarring also varies from individual to individual.