far as emotional eating goes, i do the same thing. what i've figured out... is that u can have ur turtles.. just have less of them. myfitnesspal helps u figure out where al your calorie wiggle room is because u can calculate how many calories u still can eat and stay under your daily amount. or if u went over your faily amount, how much u need to exercise to burn off the excess. that's the thing i love about that app that ppl don't tell you about diet and exercise. you can manipulate them. its not too late to do something about it if u over eat. u can even over eat on purpose on a day u just need a break or a cheat-day. just hit the gym and make sure ur getting after those calories.
however.... i found that it was easier to maintain the above mindset once i had accustomed myself to a healthier lifestyle, so i craved those things less and thought about them less to begin with and was more inclined to be uncomfortable eating them without exercising it all off.
far as being emotional goes, i have found a new light in the supplement St. John's Wart for helping me a LOT with my depression, anxiety, and mood swings. (it could be living in philadelphia and not me... but either way, it's helping me cope better)
Another thing that keeps me in the gym is feeling cute. A lot of women make short lived weight loss attempts because they think working out and going to the gym is about throwing on big ratty tshirts and head scarves and poor fitting sweats. You won't want to stay in there long if you can't SEE yourself changing. Go to Ross, TJ Maxx, or Marshall's and pick up some cute workout gear. When you wear things that make u look good and show off your progress, you'll want to continue.
Also, don't focus on the numbers on the scale. I'm a big framed person so I will always weigh more than the 'suggested' weight for someone my height. I'm focused on being satisfied with my fitness level, overall body shape, and effort. I haven't fluctuated much at all pound-wise. But my body looks entirely different and I'm improving my stamina everyday and that's what's important to me. I've noticed a LOT more progress when I figured out what I Wanted to chang about my body besides the number on the scale. It's easier to set goals that way. I want a smaller waist and fuller booty and hips. So it's like I go to the gym with a project... not just walk in there and there's a million machines and my fat self needs to get on every one of them until I'm happy with myself.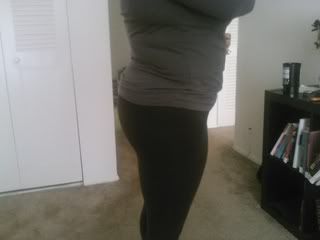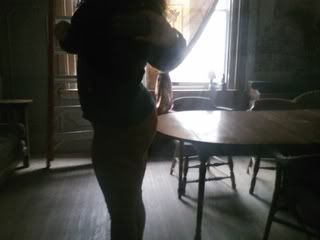 the difference between these two photos is only about 15 pounds. I'm 5'6''-5'7'' so it's not because I'm short of anything. You can get it right and get it tight without being so concerned about numbers. My fat is turning directly into muscle mass because of how I choose to train and I'm happier with these results than I ever was when the scale was moving but I saw no change in my body because I was focusing on burning fat, but I guess I personally like building muscle first because I'm actually seeing results this way. and the stronger i am, the easier it is for me to work out and the longer im able to work out.