Welp! I was hoping to up my cowashing to at least 2x a week but, here I am at my regular weekly wash.
The pollen in Georgia is crazy and my sinuses have been kicking my butt. Ah well.
So, I'm prepping my hair with a prepoo for my wash, as I type. I'll probably detox my hair, as I've been wearing braid outs lately and trying products that I bought on sale. (smh). I plan to DC too with one of the DCs that I picked up from the Indian Mart. (New stuff. When will I learn to stop buying new stuff?)
I stopped by the Indian Mart because I was in the area taking my daughter to have her hair done. Whenever I'm up there, I drop by...just to see what they have.
And I saw that Vatika had a "Black Seed" hair mask. Well, I remember Dr. Oz talking about black seed to prevent split ends. Also, black seed is supposed to be the "seed of blessing" so... I grabbed it. It's claims to be deeply nourishing so, sounds like a good treatment for my ends.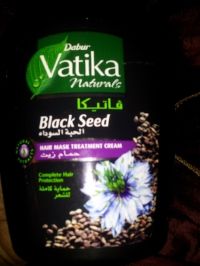 I also picked up their Garlic hair mask treatment cream. Garlic is good for growth (contains sulfur) and works well to fortify the hair. So, I'm trying to decide which I'll use today.
Eh! We'll see how it goes. But since I'm completely detoxing my hair first, I'll be able to get a true assessment of how these "hair masks" work on my hair. I may use both. Who knows.