YAY!!!!
About me:
4B Natural (some 4a in the back) Currently NL (Some CBL in the back). Hoping for FNL by December 2010; and
Full
APL December 2011
I started my Natural journey June 2009--I BCd to a .5 TWA
My last relaxer was in the first week of March 09.
Starting pic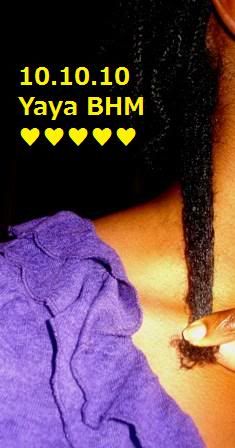 Regimen


I will keep my hair in mini box braids for 4-6 weeks at a time and wear wigs as my PS of choice.. I will do my entire regimen while in my braids and detangle the day before my new set.
o Shampoo and DC w/ steam Friday
o Cowash Wednesday
o Rinse braids daily in the shower
o Moisturize/ seal daily
o GA: mt+sulfur+ peppermint oil+ wheat germ oil+ MN at least 3x a week
o Baggy EVERY SINGLE night (whole head)
Right now I am in the process of using up my product stash.. so my conditioners/ shampoos are not exclusive to one kind..


Internal intake-
o 80oz water daily
vitamins:
o Geritol Complete (1daily- multi vitamin /multi mineral supplement)
o Vitamin C (500 mg daily)
o Horsetail (880 mg daily)
o Folic acid (400 mcg daily)
o Garlic supplements
o Chlorella 1-3 grams daily
o CVS Hair, skin and nails (1/2 the recommended dosage: 1 pill daily)
o Just added Fish oil (equivalent: 2.4 g Ester Omega Fish Oil & 1200 mg Omega 3 Fatty acid)
Good luck ladies!!! 2011 APL or bust!!!!


Edited by yaya24 - Oct 11 2010 at 9:02am