selling some supplemental hair…
(superior)wagmans/bdogg (i sent like 2 bundles of wags and 1 bdogg to sam to be wefted.. so yea its either a mix or one or the other.. im leaning towards wags) not the best pics.. im gonna take some more later. the hair has big pretty ringlets.. which arent really showing in the pics. i think i may have conditioned it after the pics were taken. minimal shedding.
2.9oz never used. about 18/19 inches. the entire length of the weft is about 60 inches.
asking 110.
lightly finger combed here
*see pics next page* - took some diff ones
arjunee - 1.4oz - about 15/16inches
the hair was lightened just using hydrogen peroxide.. it goes from like a little honey blonde to a medium brown to a darkish brown.. its definitely a little darker IRL than it looks in the pics. has some coarseness to it. never been used.
The hair is kind of dry… plus its just been sitting around for years. im gonna condition it before i ship.
Asking 60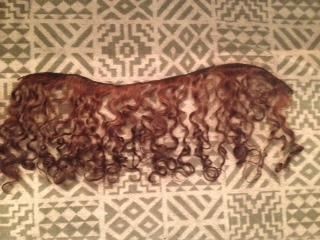 id consider trades depending on what it is. (preferably virgin wavy or a wavy closure)
oh and i still have 1 bundle of #6 bodywave for sale. - $40


Edited by coconess - Jun 18 2014 at 7:15pm